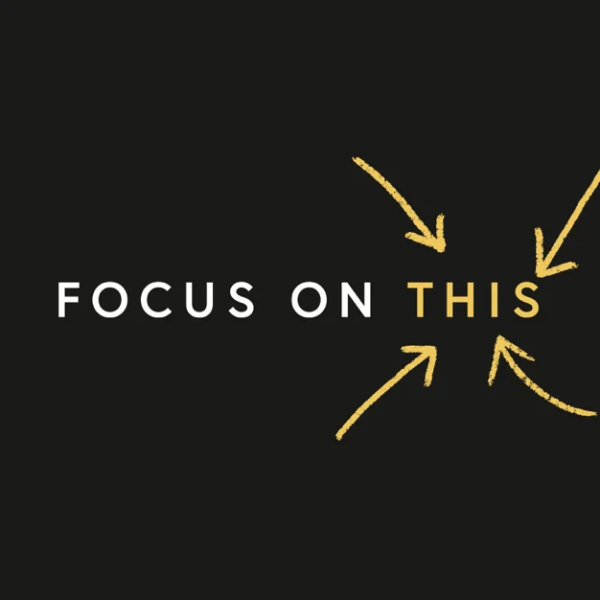 134. Power Up and Refresh Your Goals
Audio
Overview
When our goals no longer feel exciting, the pursuit can feel cumbersome. It feels like everything is a drag, like there's something wrong with your goals or the way you set them. Should you just let your goals crumble and aim for different goals next time? 
In this episode, Verbs and Black walk through four key actions you can take to refresh your goals. Follow them closely to get back on track and make your goals exciting again. 
In this episode, you'll discover—
One of the best actions you can take in between quarters

The question to ask yourself to move forward on your goals

How to reassess the relevance of your goals

Why changing goals can be necessary—and even good
Resources:
Related Episodes
Episode Transcript
Verbs Boyer:
Here we are, quarter two is upon us. Some of you may have already started the process of doing your Quarterly Preview. Some of you may have not. But one of the things you may encounter as you are in this process is figuring out what to do with the goals that have begun to feel stale to you. They feel a little bit stagnant.
Blake Stratton:
Yeah.
Verbs Boyer:
And so when our goals don't feel as fresh or exciting, do we continue those? What do we do with those goals? How do we break the stagnicity off of those goals, Blake?
Blake Stratton:
Ooh, the stagnicity. Stagnicity.
Verbs Boyer:
I think I made that up. I'll double check.
Blake Stratton:
Well, I'm not going to check. I'm going to take it… what you say goes my book Verbs. Yeah, sometimes you can get by, right? You have a day where your goal feels stale. Other times, it's like this morning when I found a half-eaten donut that I got on Saturday and I was like, this is probably still good. And I took a bite out of it and I almost had to go to the dentist because it was so stale, borderline caused an injury. If your goal is feeling that way, maybe you're thinking, "Hey, is the problem me? Do I just stink at goal setting? Is there something wrong with the way I said it? Or is this just not for me?" Or as the problem, the goal, right? Maybe the goal itself wasn't the right one. And so you go, "Oh, well now I have to figure out what's the right goal or what I should have done." Right?
Verbs Boyer:
Yeah.
Blake Stratton:
And neither of those things-
Verbs Boyer:
Or maybe the right one for the right time. That could be an issue as well.
Blake Stratton:
… Yeah. Exactly. Maybe none of those things are true, but what is true is that everybody can breathe new life into their goals. And right now this week is a great time to reexamine it and to do that.
Verbs Boyer:
Today we have four actions that everyone can take to refresh their goals and start getting things back on track.
Verbs Boyer:
Welcome to another episode of Focus on This, the most productive podcast on the internet. So you can banish distractions, get the right stuff done and finally start loving Mondays. I'm Verbs, here with Blake Stratton. And yet again, no Courtney Baker. Happy Monday, Blake.
Blake Stratton:
I know. We need to breathe new life into this podcast. We need to get Courtney back on.
Verbs Boyer:
She must return.
Blake Stratton:
She's-
Verbs Boyer:
She must return.
Blake Stratton:
… Yeah. I think she was invited for an international forum about the Peloton. And so she's weighing in giving her expertise to the world's top Peloton-ers. I can only assume she didn't tell me that explicitly. I can only assume that's where she is. I think it's in Sweden or something, the global summit for the Peloton, right? That's probably where she is.
Verbs Boyer:
I'm not participating because when she comes back, fury will take over.
Blake Stratton:
No. We miss Courtney, please don't turn that dial. Verbs and I are going to do our best to hold it down.
Verbs Boyer:
Absolutely.
Blake Stratton:
And today, as we said, we're going to try to breathe some life into your goals. We talked about this a little bit last week of the importance of having those driving forces behind your goals, that motivation. And in this episode, it's a continuation of that, where we are going to help you take some specific actions to make those goals feel vibrant, alive, and exciting to you again, so that as you step into the second quarter, you are primed for success. Verbs, I'll kick it to you.
Verbs Boyer:
Absolutely.
Blake Stratton:
What is the first action someone can take?
Verbs Boyer:
Action number one is to determine what's working and what's not. Now, that's going to sound like a familiar question for those who are Full Focus Planner users and have gotten into the habit of doing not only your weekly preview, but also a Quarterly Preview is that question always pops up in the After-Action Review portion of, hey, what's working? What's going well. And what's just simply not going the way you thought it would. I think the fact that the matter is, again, is we rarely reach our goals perfectly, the way we thought it was going to go, it may take a couple of ducks and turns. But, as long as we're getting it in the end zone, regardless of how we fumble the ball down the field, as long as we get the end zone, that's what we're going for.
Verbs Boyer:
Sometimes it may look like false start. Sometimes, like I said, it's a zig zag path, it's not always linear. But one of the best things you can do in between quarters, whether you're starting a goal or continuing one, is really start to determine what worked towards your success? And then also what held you back?
Blake Stratton:
This is totally normal for some things to work and some things to not work. Especially if this is your first time really going all in on a goal. Know that the fact that things aren't working isn't a sign that something's gone wrong, it's just a sign that you're playing the game. It's like making a game plan in football, right? It's important to step into it with a game plan, but of course there's going to be some that you may have or may not have expected. And so consider this like your halftime huddle, where you are taking account of well, here's, what's working, here's what we can double down on or build upon. And then here are things that we should examine because they're not working.
Blake Stratton:
I love this question, Verbs, because there's an emotional effect of feeling like your goal has gone stale and that emotional effect is like a weed in the garden of your mind. And if you don't tend to it, pretty soon, it's going to grow, there's going to be more weeds. Right? What this question allows you to do is trim the weed because you're creating distance from your self identity or the way you view yourself. You're creating distance between that and the progress of your goal just by asking the question, "Hey, this isn't working?" And just by writing that down, you're getting your power back a little bit. That's why I like this question so much is you can categorize things and get things out on paper. And by doing so, even before you fix any problems at all, you've started to fix the problem of this goal feels stale or this goal feels too big for me to accomplish.
Verbs Boyer:
And again, I think the benefit of just going through this practice of asking that question is you will realize that there's things that may not have gone well or the way you expected, but it doesn't mean it was actually the goal itself. It could be other things that you encountered in that process that need to be adjusted. These could be general things, for example, really examining or reexamining your habits or your rituals or your planning or the scheduling of where you initially hope to give that goal attention. And so in examining, "Hey, what's not working?" It may not be just X, those things out and cut them or eliminate them all together. It's also a reexamination of everything that points or makes space for that goal to actually be accomplished that is going to be worth looking at as well.
Blake Stratton:
Right. These can be really simple things. And at this stage, you don't even necessarily need to solve all the problems. But let's say, "Hey, I want to write a book this year." And so you had a strategy of getting up at 5:00 AM, because you heard of somebody else who wrote a book and they got up early and they did that. And when you get up at 5:00 AM, you're falling asleep on your keyboard, right?
Verbs Boyer:
There's no words.
Blake Stratton:
You have drool coming down. You're like, "It's not working." You're not making the progress at 5:00 AM. That's all you've got to do with this action step, just write down what's not working. And then you can build off of that. And actually, let's take that to our second action here, Verbs.
Verbs Boyer:
Okay.
Blake Stratton:
The first action being to ask yourself, what's working, what's not working? The second action being, do the next right thing. The next right thing. We've framed this up intentionally. When we think about our goal, I don't know if you struggle with this, Verbs, my we'll start thinking about how? Well, how am I going to do that? And I get anxiety sometimes because I don't know what steps 32 and 47 are going to be or how I'm ever going to be able to do that. And that is where planning sometimes can hurt you, or trying to plan, it's because you don't know what that terrain is going to look like yet. You may not have become who you need to become in order… or assembled the team you need for that or the resources you need for that. Instead, to refresh your goals and your progress, focus simply on the basics. Focus simply on what is the very next step? Maybe I don't know all the steps, what's the next step that's going to move me a little bit closer to this goal?
Verbs Boyer:
I like this idea of just going back to be able to go forward. I mean, one of the things that's going to be important about this whole process is also remembering to keep those goals visible, not just the goal itself, but hopefully you went through the practice of filling out a Goal Detail page where you see your next steps and you see your key motivations, because that's going to be helpful in this process as well. But go back and think about what your next step was that you wrote down. And then again, just ask yourself the question, "Is this a small enough next step that it can jolt me out of my stagnant state to get back on this goal again? Or do I need to parse that down a little bit?
Verbs Boyer:
For instance, let's go with your example of writing a book. There's probably some habit, goal that you're establishing to get to that point, but what is that very small next step look like? Is it signing up for some sort of writing software that you feel like is going to help you and lower the bar of entry for you to get up and then plug right in or start writing? Or maybe it's I need to buy a clean brand-new journal that has blank pages to help me out. Or my maybe it's, I need to get a journal with prompts to help me out to get that writing process started. Whatever could be a small next step to really get you going is something that you may want to reconsider if you're already feeling stuck in that goal.
Blake Stratton:
That's right. And if the next step feels too big, then go smaller. I like the examples that you gave, Verbs. It really can be very simple. Sometimes I ask people, "Well, what's the next step you need to do?" And they go, "Well, I need to hire an assistant," or something. Well, you can't take the action, hire an assistant. That's actually a project, right? That's a phase towards a goal. What you could do is write a job description, that's something that you could do. What you could do is, if that feels too big, you could schedule a meeting with a friend who filled this exact same role in their business and ask them questions about how to write a job description. You could schedule that meeting you. Or you could make the phone call to schedule that meeting, right? You can break this down smaller, smaller, smaller until it feels almost too easy. And the idea here is you want to stack some positive actions in the direction of your goal to create momentum. And that momentum will bring some life, bring some refreshment to your goal journey. Action number two, just do the next right thing.
Verbs Boyer:
Even if it's only one.
Blake Stratton:
Even if it's only one.
Verbs Boyer:
I know we say next steps, plural, but just figure out your one next step and be able to take that one today.
Verbs Boyer:
Action number three is reassess the relevancy. I love this one because it forces us to think about where we were when we made the goal and where we're at currently, especially as you go into quarter two, is goal relevant? At the beginning of the year there's always that excitement. Again, it's that fresh start effect that kicks in. There's adrenaline, there's all this stuff that, you list everything that you want to complete, but then you really start to figure out, as time goes, "Okay. I know this goal is something I want to accomplish. There's motivation behind it. But I just need to make sure that the relevancy is correct. Is this the right goal for right now?"
Blake Stratton:
That's right. That's right. And this is a hard one for some of you listening because you don't want to lose. And sometimes reassessing the relevancy of a goal means the potential that you let it go. That you say, "Hey, it's not the right time." If you-
Verbs Boyer:
Wait, wait, wait.
Blake Stratton:
… Yeah, go ahead.
Verbs Boyer:
Go back. That's important. Because when you say letting it go, what do you mean when you say that?
Blake Stratton:
I guess what I mean is sometimes to reassess the relevancy, you have to allow for the possibility that you're going to not for pursue this goal anymore at all. Or that you're going to shelve it to a later date potentially.
Verbs Boyer:
Good. Yeah.
Blake Stratton:
I mean, usually you don't have to outright delete a goal, usually there's a reason that you'd have that in place. But sometimes it could be totally irrelevant. Right? I could think of one of our clients, he started our BusinessAccelerator program for the same reason a lot of people do. He wanted to really drive growth and scale in his business, while still maintaining a thriving, personal life and having margin. And a few months into the program, his wife, they got pregnant, which was very exciting. Right? But now the purpose of the goal didn't change, right? The purpose of the goal didn't have to change because it was all about really creating the life or becoming the leader that he wanted to become. Right?
Verbs Boyer:
That's good. Yeah.
Blake Stratton:
But the relevancy of the revenue growth goal was diminished because now the priority for him was, "How could I set up a system in my business so I could take a true paternity leave?" Now, this is someone that hadn't even taken an unplugged vacation in years, right? I mean, this was dependent on him. And I talked to him, it was month, I think seven, right? They were a couple months away. And he said, I said, "Hey, last we talked, you had this big revenue goal. How's that going?" He said, "Oh, you know what? To be honest, we didn't get there revenue-wise, but I'm not sad because I changed my goal. The relevancy of that shifted where it was less about new sales, growth, new client growth. And it became more and more about system growth or internal growth in the business. And I'm so excited because I've got two months that I'll be off and everything's going to be fine. We've already kind of tested certain things and so there's certain things we got to do. But I'm thrilled because this was not on my radar a year ago when I set this goal, but now it's taken priority."
Blake Stratton:
And I think that's something that we can do. Maybe it's not as dramatic of a life change as welcoming your first child into a family. But, I mean, we all, Verbs, have things that come our way during the year that we didn't expect. There's always unexpected things. To simply deny those things, you don't get a badge of honor for ignoring the unexpected happenings in your life.
Verbs Boyer:
For making it harder. Yeah.
Blake Stratton:
Yeah. I mean, again, this is designed to serve you, you're in the driver's seat. We're not saying quit on your goal if it's stale, what we are saying is take these things into account and remember, these are my goals. So is this still serving me? Or would another goal serve me better? Or would adjusting the timeline on this goal serve me better? Or how do I make this more relevant given these changes that have happened in my life?
Verbs Boyer:
Yeah. And I don't mind saying this multiple times as we talk about either stale goals or I know last week we talked about just getting motivated again with the goals. But I love the fact that you mentioned he stated that the bit of his goal he realized can be achieved, well, one, it shifted, but it could be achieved another way also. Because, like you said, relevance can be broad and you might change your mind or you might be wanting to pursue something else, and that's totally fine. Or you go through this process, and you find that the goal is still relevant and that you can keep it and then you can keep going to working at it.
Blake Stratton:
And that brings us to our fourth and final action here, Verbs, to breathe some life into your goals. Action four, change the plan. Change the plan. This is a helpful last step here because you've taken account of what's working, what's not working. You've thought about the relevancy of your goal. You've thought about what is the most important next action or actions for your goal. Now, the time comes to adjust your planning moving forward. You should not feel bound by your goals or trapped by your goals. Goals are wonderful servants. They're not the best masters. So feel free to change your plan, to change your approach to try to reach these goals.
Verbs Boyer:
Yes. When you think about it, I mean, goal achievement is actually an exercise in freedom. You can gain freedom and you can feel freedom within the process itself. Going back to an example you talked about or brought up in that last step is when we're not assessing or we're resisting the relevancy, knowing that there's other external things happening that's really making this goal difficult and hard, and we just need to come to the resolve that it's not going to happen, or this is not the best time for it to happen right now. Well, there's freedom in that. That's engaging this process to realize really where your freedom is and not holding on so tightly to this thing, to where you're actually captured by the goal when it's just not going to work because of other things that are going on in life.
Blake Stratton:
We have a tool in our planner called the Quarterly Preview. And the purpose of that is to take some extended time to review and plan ahead. Reconsider this, if you think about the changes in your life or your progress in your goal, or what's working, what's not, go ahead and iterate, "Okay, how can I change this plan so that my success becomes more inevitable?" It becomes a little bit simpler. "How can I cue myself up for success here?" And a positive thing, this again, is about refreshing your goals or bringing some excitement back to it, with a refreshed play land usually comes some refreshed, motivation, some refreshed excitement, I think. Even before you execute it, right? Because as you're planning, you're seeing things happen before they happen.
Blake Stratton:
Verbs, I remember in 2020, I know that Courtney and our marketing team had goals for this podcast. And we had a rhythm, we had a good thing going where we'd get together in person one time a month and we batch record all these episodes. Well, in 2020, the idea of batch recording went… I mean, in person definitely went out the window, but even Ash recording went out the window. Remember, Verbs, because it felt like big world relevant events were changing almost week to week. Right? I mean, it was… So to speak with any level of sensitivity or insight that would be appropriate, we just couldn't do the same plan. And we had to stop, reassess and make a new plan to record podcasts moving forward. Here we are in 2022, and we're still influenced by the positive effects of changing that plan.
Blake Stratton:
Now, the goal didn't change. Right? Maybe you haven't moved the goalpost, but the route, almost like you're… Apple Maps does this for me where I remember one time, it told me to take all these side streets to get back home. And I was like, "What? The highways right here, Apple." Of course, I'm going to jump on. I-40, here we go. And sure enough, I get on I-40 and there's an accident, or there's something. It may have been construction, but it was stand still traffic and it took me an extra 30 minutes to get home. I still went home. Right? But maybe you go, "Oh right. I need to change the plan. Let's reroute the GPS here and find a new path."
Verbs Boyer:
Yeah. And then, I mean, think about the flip side of that, right? If what our initial plan was and where we were, as far as finding our perfect rhythm of recording, think if we just tried to hold onto that for six more months. We would've been frustrated, the quality that Nick brings to the show and the voices that we are able to bring would've suffered because everybody is frustrated because, "Hey, what we were doing, it's not working like we thought it would. What can we do to make it go back to what that looked like?" It's like you're frustrated, the whole thing feels rigid. There is no freedom. There is no excitement. There's no motivation because there's a resistance there. And so I love the fact that we're talking about this process, actually bringing freedom instead of focusing on trying to regain or recapture something that once was, that needed to pivot to be able to get to a whole new place of motivation and excitement.
Blake Stratton:
All right, I'm going to turn the tables here, Verbs. I'm going to close us out and I'm going to kick it to you for a final thought. Okay?
Verbs Boyer:
Oh, okay.
Blake Stratton:
All right.
Verbs Boyer:
Sweeping the tables.
Blake Stratton:
Dear listener, happy Monday, by the way, if I haven't said so already. Your goals do not have to grow stale and crumble or hurt your teeth like the donut that I tried to bite into this morning. You can refresh your goals by determining what's working and what's not, doing the next right thing, reassessing relevancy and changing the plan. Verbs, any final thoughts for our Focus on This listeners?
Verbs Boyer:
Let me say yes. Listener, as I say this, if it applies, please apply it. Let me speak for myself as far as some things that I have learned in this process is there's a micro and a macro level to this. A lot of what we talked about today in the podcast is something that we could do within a weekly regimen or a weekly rhythm within our weekly preview. But we could even take that back to what we originally have framed up or formulated our goals. Because it's always going to be important to keep those visible. And I'll even suggest, hey, during that time of reviewing your goals, which is a step in the weekly preview process, just even reexamine how they are measuring up to the smarter framework that we talk about often. And just make sure everything is good there. And hopefully within that process, you're gaining some new insight, you're gaining some excitement as well. But as you get into the rhythm of doing that throughout those weeks going into the quarter, I think we can find ourselves being able to maintain with a consistent measure, our motivation, excitement, and all of those things behind the goals that we create. That would be my final thought, sir.
Blake Stratton:
Love it. Thank you, Verbs. And thank you listening for joining us on Focus on This. This is the most productive podcast on the internet, or at least that's what my mom tells me after she listens to it. So share it with your friends and don't forget to join us on Facebook, the Full Focus Planner community. It is a thriving group of mega geniuses. We will be here next week. Right Verbs, we'll be here next week for another Monday episode?
Verbs Boyer:
Yes, we will. As Tony the Tiger would say, it'll be a great episode
Blake Stratton:
Okay. Good. Yeah. You left me hanging there, I was, Verbs? Don't you eat me, Verbs. We'll be here-
Verbs Boyer:
We'll be back in full force so long as Courtney is well, too.
Blake Stratton:
I know, full force. We'll see you next week, but until then… stay focused
Verbs Boyer:
Stay focused.