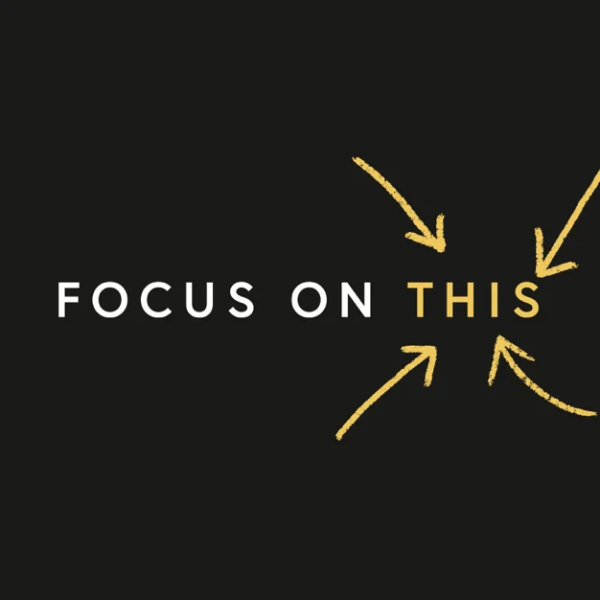 138. Creating Effective Habits with Amy Porterfield
Audio
Overview
In a world that feels so chaotic, it might surprise you that something as simple as a habit can provide you with both clarity and peace in your life. Today, Courtney and Verbs speak with Amy Porterfield about the importance of habits and how to install them into your daily routines.
In this episode, you will learn:
How people get stuck when developing habits

How you can identify the habits that fit into your life

The power that habits have had on Amy's life

Which of our hosts drink a gallon of water a day (spoiler: it's none of them)

Amy's trick for making sure she sticks with her habits
Resources:
Related Episodes
Episode Transcript
Amy Porterfield:
And in addition to that, make sure that I then show that I did all of these things when I finished them in the mornings. So those are some of the things that I do every single day.
Courtney Baker:
What I love about what you just shared is you said, "Hey, for meditation it's 10 minutes," otherwise it's not realistic. It's like you know yourself. It's like, "Yeah, I would love to do 30 minutes of meditation," but that's just not feasible. I'm kind of putting words into your mouth here, but [crosstalk 00:09:37] your life season or what's going on with your business. The ball starts rolling, you start missing it over time. And then it just gives you a sense of failure. It's actually the opposite of what you're trying to achieve.
Amy Porterfield:
Oh, absolutely. When I first started this tracker, I had drink a gallon of water every day and I would miss it every single day. I'm like, "This is too hard." I've made it my mission now to drink water versus everything else and is driving me crazy.
Amy Porterfield:
So I change it to just half my weight in water and that has served me well. But yeah, these habits have had to be tweaked along the way, because if I'm not hitting them and I feel like a failure every single day I can't have that. That's not how I'm starting my morning.
Verbs Boyer:
Amy, you mentioned that habits are important to you so much so that you had to bring in reinforcements just to keep them going and keep them top of mind. But what has changed for you since you've started implementing habits? You mentioned meditation or working out, what kind of adjustments have you seen kind of come into fruition since you've implemented these habits of yours?
Amy Porterfield:
Oh, I love this question. So for me, a lot of my morning ritual is focused on decreasing my anxiety. And so in 2021, when I moved to Nashville, I had this overwhelming sense of depression and anxiety. It just hit me like a ton of bricks. And I've had a little of that in my past, but nothing what happened last year.
Amy Porterfield:
And I don't know where it came from or why it was there, but it really was debilitating. And so I made it my mission that I will do everything I can to lessen those overwhelming feelings. I've changed the morning rituals to support my issues with anxiety so that I can start the morning with a fresh mind.
Amy Porterfield:
And so the meditation always has breathing exercises in it that helps immensely with my anxiety and then just journaling all my thoughts and feelings and things I'm struggling with or things I'm grateful for puts me in the right state of mind.
Amy Porterfield:
So really everything I do in the morning is to set me up so when I sit at this desk and I'm ready to go, my mind is clear. I am focused. I am free of worry because I already journaled about it and meditated through it. So it absolutely sets me up for a successful day.
Amy Porterfield:
And when I skip those things, I absolutely notice a difference. So for me my theme is let's decrease anxiety. And I think anyone listening, if you've got this challenge that keeps coming up for you, how can you set up your morning to tackle it first thing that has really a game changer for me.
Courtney Baker:
I love that. It's like what do I need this ritual to be for me to be successful? And I think that looks different for a lot of different people. I think a lot of times we hear other people's rituals and we think, "Okay, let me get my paper. Let me start, [crosstalk 00:12:29] 10 minutes of this, 10 minutes of that." Work out at 4:00 AM. when really it's like, "Okay, what do I actually need to be my best?" And I love just your transparency even on your own podcast where you've shared about your anxiety.
Courtney Baker:
And I think there's probably certainly people out there that are struggling with that and can pick up some tips, but there may be other challenges people are having right now. And you can really craft that your morning ritual to really help you accomplish what is right for you.
Amy Porterfield:
Absolutely. On my own podcast, I did an episode about morning rituals and I had different peers share theirs and exactly what you just said. One of my friends, Kate [Northrap 00:13:14] she had just had a baby. And she came on and she said, "My morning ritual's going to look a whole lot different than everybody else's because it doesn't include journaling or meditation or even working out, I am in survival mode. So here's what my morning ritual looks like."
Amy Porterfield:
And I loved that because you're right, we all go through different seasons. And I think every quarter you should be looking at all of your habits, not just morning ritual, but everything that you're committed to doing, does it still serve you in the season of life that you're in right now? So yeah, I totally get that.
Verbs Boyer:
And I think that's so profound what you just said is remembering it's not, "Hey, let me set them up at the beginning of the year or the quarter," and then it's pass or fail. It's how do I continue to massage and adjust these so I can find the right rhythm in the season of life that I'm in right now and figuring out how those work for you best.
Verbs Boyer:
So, I mean, again, relocating across the country, having a baby, those are significant life events to where it should prompt you to, "Hey, let me look at this and make sure that my rituals are serving me well and I'm not just serving the ritual because I have it written down on paper."
Amy Porterfield:
Amen. Yes.
Verbs Boyer:
How can people in periods of transition really leverage habits? I know you mentioned that's a significant move going from California to Nashville in the middle of a pandemic no less. But do you have any thoughts around how people can really leverage those habits when they're in a life transition?
Amy Porterfield:
Yeah, I think it starts with a question and the question I would ask and I have asked myself is what do I need right now in this season of life? What would make me happy? What would bring me joy? What would lessen my depression or anxiety? What would make me feel more connected? Whatever it might be, but what do you need right now? And I don't think that's a question we ask ourselves in enough, I know I don't. And so once you start with that question, what do I need right now? And for me, when I first moved to Nashville, michael jokes with me, he's like, "You came at the worst time ever," the dead of winter in February when they had their first ice storm in a hundred years, I'm like, "What is happening for the Southern California girl?"
Amy Porterfield:
And so in that moment I just needed to feel grounded. That's all I needed. I was in a whole new place, different weather, different people. I missed my family and my friends. I wanted to feel grounded. So there were things that I did such as setting up the house as quickly as possible so it felt home again and going on walks with my dog like I did every day in California and making sure I had that familiar feeling of I'm safe. I'm okay. This is a good move. We're going to make it work. So my rituals and my habits a year ago looked dramatically different than they do now.
Amy Porterfield:
And I'd love to think that I'm always upleveling. Sometimes I have to go backwards a little bit. So asking the question, what do I need right now, I think is really helpful especially when you're in a transition.
Courtney Baker:
This question kind of goes off that a little bit, but why do you think people get stuck when they're trying to create habits or trying to install new habits?
Amy Porterfield:
Oh, I absolutely believe, and I take this from personal experience, we have too many and we make them too difficult. You were right when you said earlier, I hear other people's habits or rituals and I'm like, "I need those. I need to do all of those, like drink a gallon of water." And then I'm not the girl that's going to drink a gallon of water. It's just not going to happen. Or I'm not the girl's going to work out seven days a week. I hear people will do that 75 hard and I'm like, "That's not my personality."
Amy Porterfield:
So I think the biggest mistake is adopting somebody else's not knowing really what you want and what you need and also having too many. That's another thing. That's another thing why I love Full Focus Planner, especially the list… Not the list building. I've got list building on my brain every minute. The goal setting part where you don't have 20 of them. And there's a reason for that. Same thing with habits, I really believe we need to pair them down.
Verbs Boyer:
I will say this, anyone because I've done it myself. I tried to set that habit of drinking a gallon of water a day-
Amy Porterfield:
Do you do it?
Verbs Boyer:
I do not. I do not. Here's the thing with drinking a gallon of water a day, the whole rest of your day is affected and impacted by your trips to the restroom by drinking gallon of water a day. So you're losing 10, 15 minutes of pockets of time a day just for restroom stops, but-
Courtney Baker:
And full disclosure, when you're doing back to back Zoom meetings, this is a real pain point here, if you're in an office it's very natural to be like, "Hey, I got to go run to the restroom really quickly." But when you're doing back to back Zoom meetings, there's no opportunity for that. We've got to figure out as a society how to appropriately do that. Okay. So [crosstalk 00:18:17] on this podcast guys, we might be on to something.
Verbs Boyer:
Yeah. And appropriately to find out how to do that is the key word. I'm sure somebody has somewhere rig something up, but-
Courtney Baker:
Well, also I've never been successful with the gallon drinking water. I've tried all the things. Megan Miller and our CEO both did the plant… Do you all remember this one? It was anytime you drink some water, you would give your plant water and it would… I forget the name of it. So Nick, have you ever been successful because-
Nick Jaworski:
No. Well, here's the thing. If you're going to tell me that every time I drink water, that I'm going to help a plant. My shame response when I fail to do that I'm going to be like, "I'm killing so many plants." It's never going to work. The moment you said that I got warm.
Courtney Baker:
The best [crosstalk 00:19:15] for podcast producer ever. I just love it.
Amy Porterfield:
That's so good.
Courtney Baker:
Okay. For everybody listening, we have no tips on how to drink lots of water. This is not the podcast.
Amy Porterfield:
That is not what this is about.
Verbs Boyer:
If you could speak to this a little bit Amy, how can our imagining or our thinking become a habit or maybe just tell us a little bit about some of the practices that you use just to train your brain a little bit differently.
Amy Porterfield:
Ooh, I love this question. I teach entrepreneurs. So I believe that 80% of your success as an entrepreneur is all about your mindset, what you think, what you feel. And I believe that, that thoughts create feelings and feelings create actions. And so when we're talking about habits and rituals or setting goals, it starts with that thought that you have. And so for me, what I do is I call it mind my mindset. Every day, when I have a thought that does not make me feel good, I ask myself, "Is that thought serving you?" And instantly the answer is no. And I have to choose a new thought.
Amy Porterfield:
I would call this maybe a habit that I don't necessarily track daily, but it's a habit that I catch a thought such as you're not as smart as the next person or you've lost some of your mojo, this isn't working as it used to or whatever it might come up for me I ask myself, "Is that serving you? No, let's choose a new thought."
Amy Porterfield:
And sometimes that thought just needs to be neutral. I'm doing the dang thing, I'm in it. I'm making it happen. Or it could be something like, "I'm going to crush this. And I know I can make it a big success." Neutral or really positive depending on how I'm feeling. But I have to always check in with my thoughts. It's a really big part of my success. And it's something that someone with depression and anxiety, I can go to a really dark place really, really fast.
Amy Porterfield:
The other thing I'll say to that is I often check in with people. So if I'm struggling with a thought that's not serving me and I'm feeling a certain way that I just can't seem to shake, I'll talk to my husband Hoby, or I'll talk to a coworker or a peer, but I'm not shy to reach out and say like, "I've got a challenge here. Can you give me a little pep talk?" And I've got some girlfriends that do the best pep talks in the world. So find yourself some friends that can give you those pep talks when you need it. And don't be afraid to reach out to them.
Courtney Baker:
I love that. I think that is so helpful, especially, I think that's for anybody in any role we have those thoughts that just don't serve us well in our positions, but I think so critical for entrepreneurs. And I think there's two really great habits that I use that word loosely, but catching our thoughts and then making a habit when needed to reach out to the people that can help us.
Courtney Baker:
Are there any other habits that you think for people that are entrepreneurs starting businesses might want to consider? Again, we said earlier, we're not prescribing here, but maybe some that you would say, "Hey, these are worth thinking about."
Amy Porterfield:
Oh yes, absolutely. The first one is to visualize. And if you could do this on a daily basis, this comes usually with my meditation or my journaling. Visualize the future that you want. Whether you're an employee in a 9:00 to 5:00 job wanting to move up that ladder, or you're an entrepreneur, it doesn't matter, visualize where you want to go. And if you do this daily, if you see yourself there, how do you feel? What are you wearing? What are you saying? What are you doing? I think that makes a world of difference to project the life that you truly want. So that's a habit that I tend to do daily through my meditation.
Amy Porterfield:
And then number two is fuel your brain, listening to podcasts like this you're already winning my friend. You're already doing it. Every single day, I'll listen to an audio book or a podcast that will do one of two things. One, reset my mindset or two, give me some strategies that I can apply to the business that I'm creating. And so either of those work immensely well, but I have to make it a habit to fuel my brain.
Verbs Boyer:
Amy, what would you say to anybody that's listen to the podcast right now. I mean, obviously we're giving them ideas. Like Courtney said we're not prescribing this, but sometimes people hear this information and they begin to feel overwhelmed just by the starting the process of developing habits. But what would you say to that person listening?
Amy Porterfield:
Well, we can't talk about habits without talking about one of the Mac daddies of all habits, James Clear of Atomic Habits. It's a book I highly recommend. So talking about fuel your brain, I think is worth the read for sure. But one thing he says is that every action you take is a vote for the type of person you wish to become.
Amy Porterfield:
So no single instance he says will transform your beliefs, but as the votes build up, so does the evidence of your new identity. And so if you are looking to make a change, if you're looking to be different, show up differently, again, every action you take is a vote for the type of person you want to be.
Amy Porterfield:
And I think that's so incredibly important to remember that when you're setting these habits, the goal is that you want to be a certain type of person. Again, get clear on who you want to be, how you want to show up, and then just know that each of those habits that you do, it's a vote for you to be the better person you want to be. I think that reminder has helped me immensely.
Courtney Baker:
I love of that. And I feel like that vote for who you want to become, and even the exercise that you mentioned of visualizing, where you want to go, I feel like so many times we run into people that actually don't know the answer to that. They're not sure what they want. And then they get to creating their goals and their Full Focus Planner and it's like, "I don't even know." I don't even know where to start. Is there any hope that you can kind of give for those people or maybe a little fuel to just help them hone in to like, "What do I want. Is it a career move? Is it a 5k I'm going to read?" I don't know, the list is endless, but anything on that topic that you would share?
Amy Porterfield:
Yeah. So this is going to sound a little bit weird. I've never actually explained it this way, but I feel compelled to talk about it. One of the things that I was talking about on my podcast a few weeks ago is this feeling of being envious or a little bit jealous of what other people are doing in my industry. It's very easy for me to look online and think they're doing so many big things and they're doing it better than me and look at them and how did they get that opportunity? And I start to feel a little envious.
Amy Porterfield:
Well, what I talked about on my podcast and what I think could really apply here is flip that around. And when you feel envious or little jealousy, or just that little tinge that we all know what that feels like comparing ourselves, ask yourself, what do they have that I want?
Amy Porterfield:
What do they have that I want? Because typically that feeling envious is that they're showing up in a way that I want to show up that way. I want that. So one of my friends getting on the cover of success magazine, I'm just using this as an example, that could be something that maybe I feel like, "Oh, how did she do that and I can't? Oh, maybe I want something like that." And then ask yourself why do you want it? And so I think the why do I want that is the more important thing versus the ego of wanting to be on a cover of a magazine, but what will that get me?
Amy Porterfield:
How will that serve me? Where will it move me forward? So I think you can tap into those feelings of wanting what someone else has and ask yourself, "What about that do I want?" And that can absolutely start moving you toward putting together some habits on a daily basis to get you to where you actually want to go.
Courtney Baker:
I love that. That could work, gosh, across the board. I mean, [crosstalk 00:27:16] that's going on an amazing trip on Instagram and you feel that, I think it's like, "Okay, well, why do I want that?" And then what would it look like to make that possible? It starts to fuel at least an inventory where you have some things to think about of what do I want to become? What goals, what habits do I want to be pursuing. I love that. I think that's so helpful Amy.
Verbs Boyer:
So the good news is you don't have to feel outer rhythm or drop the details that matter to you. Through the power of habits, you can maintain your self care, your focused and your investment in the priorities that you care about. So Amy, once again, we've appreciated you so much. So much wisdom, so many good things that you've given us to think about, but do you have any final thoughts for our Focus on This listeners?
Amy Porterfield:
Ooh, final thoughts. I think my final thought would be that because I believe habits are so incredibly important, because I believe they are a vote for the person that you want to be, don't do them alone. Find an accountability partner. It's as easy as asking friend, "Hey, I've got these habits, I put them in a tracker, can you do the same?" And every day we just check in with each other and let each other know, did we hit all the habits we wanted to hit? Even just through a quick text message exchange or Slack exchange, you can have that extra support that you probably need, I know I need in order to keep moving forward. So my last word is don't do it alone, find an accountability partner and you're going to be that much more successful.
Courtney Baker:
And just to tag off that Amy, I love everybody listening to this podcast, you're either interested in productivity or you're using the Full Focus Planner and it's such a phenomenal tool for those things. So if you're like, "Yes, I've got to get habits." I just want to remind you in your planner, if you've never used your rituals go do that such a great tool to get started with your habits and just kind of make that part of your morning ritual, your workday startup, your workday shutdown and evening ritual.
Courtney Baker:
So definitely check that out. And then of course the goal section of your planner, if you want to make a habit goal, and again, we talked about this briefly of kind of rolling these out slowly, don't try to do everything at once, but that's a great way if you're honed in to like, "Yeah, that is a habit. That is a thing I want that I could create a habit to work towards." Go look at your goal section and maybe consider onboarding a habit goal this quarter.
Amy Porterfield:
Yes. So good.
Courtney Baker:
Also, if you're not familiar with the Full Focus Planner, don't worry about it. You can go check out or build your own ritual kit and you can download that @fullfocus.co/principles. So we have a whole host of resources there, but that ritual one is going to be really great for onboarding with habits.
Courtney Baker:
Amy, it has been such a pleasure to have you here. I, again, I said at the beginning, total fangirl over here. For everybody listening, if you've never checked out Amy's podcast, Online Marketing Made Easy, you can find it on every podcast option. And Amy, I just realized the other day that your podcast is a part of the HubSpot Podcast Network, which is awesome.
Amy Porterfield:
Yeah, it's very cool. I love being a part of that network. So thank you so much. And thank you both for having me. This is fantastic. It's been so much fun and I love talking about this topic, so I really appreciate it.
Courtney Baker:
Thanks for being here, Amy.
Verbs Boyer:
And thank you all for joining us on Focus on This. Since we're talking about habits, why not consider us making us a part of your morning ritual on Mondays and listening to the Focus on This podcast. This is the most productive podcast on the internet so please share it with your friends.
Verbs Boyer:
Don't forget to join our Full Focus Planner community right there on Facebook. We'll be here next week with another great episode, but until then stay focused.