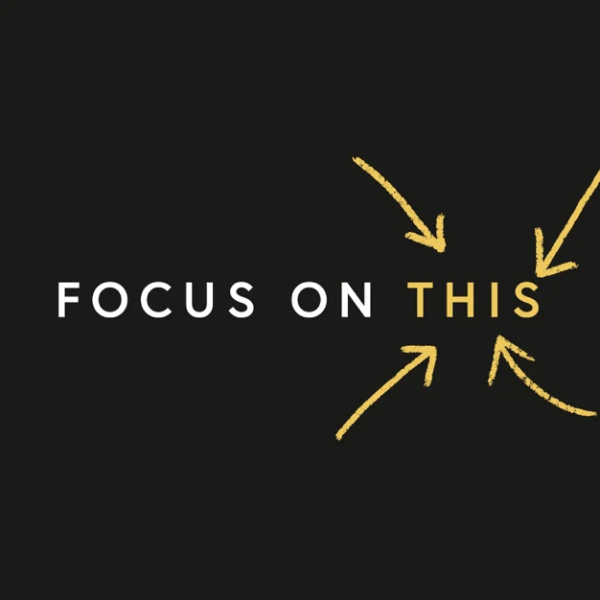 165. Leveraging the Power of Attention
Audio
Overview
"You're a mixture of the five people you're closest to." That's how the saying goes at least. We believe that the same thing is true for the things that we pay attention to. The movies we watch, the books we read, the hobbies we participate in all change both who we are and who we will become.
In today's episode, Courtney and Blake explore two tactics that will help you leverage the power of attention to accomplish your goals. Also, Nick has another segment of "Videos that the YouTube algorithm fed him". This time it's a video about home organization for people who struggle with it.
In this episode, you will learn:
How memorization can be your ally
How to make your important goals and ideas visible
Some quick organizational tips to provide some margin in your day
To get your monthly phone wallpapers, visit www.fullfocus.co/downloads.
To watch this episode on YouTube, visit https://youtu.be/18QaZj2mp1A.
Watch the home organization video that Nick talks about here: https://youtu.be/xRGXi1aTh1w
(Note: This video was not produced by Full Focus. It's very helpful, but has just a few moments that are a bit sassy or edgy.)
For more podcasts, visit www.focusonthispodcast.com.
Episode Transcript
Courtney Baker:
Hey, guys. Today we are going to be talking about attention. And one of the ways that you can give something more attention is by having it visible. You may not know this, but every month we produce free wallpapers for your phone. And so you can download those anytime at fullfocus.co/downloads.
Today we are talking about attention and I think it might be helpful for everybody to share why we're going to be talking about attention today.
Blake Stratton:
And then before we do that, I want to acknowledge that there was a dad joke about me not paying attention to what you were saying that I could have taken just then, and I did not do that for the sake of the listening audience, because I care about you. So you're on your drive, you're on your treadmill, whatever you're doing this Monday… And happy Monday by the way, and I didn't do that. So I care about you, listening audience. But also maybe I should have still done it because I miss Verbs. I don't know about you. And Verbs is usually the one who's stepping in with the dad joke. So, anyway, but let's pay attention to the topic, which is attention. So what we pay attention to, or what gets our focus, shapes our lives in seen and unseen ways. Courtney, you've probably heard that quote, feels like it was Jim Rohn, although maybe it wasn't, "You're a mixture of the five people you're closest to."
Courtney Baker:
Yes, yes.
Blake Stratton:
And we don't consciously say, "Oh, I'm going to be like Nick. I'm going to be like Courtney. And here's what I'm going to receive from them and here's what I'm going to not receive from them." If you're lucky listening, you may hear my daughter in the background. She really likes a show called Bluey and we try not to let her watch it too much, but she sometimes talks in an Australian accent. And it's just because she gives her attention to Bluey and, "Oh, that's how a kid talks." And so then she speaks within an Australian dialect and people get really confused when I take her out in public. They're like, "Wait, what?" But that's just because she's been paying attention to it. It affects who she becomes.
So in this episode, we're giving you two tactics to be intentional about where your attention is going. If there was ever an episode that more aligned with the title of this podcast that you listen to, Focus On This, this is the one. It's what are we focusing on? What gets our attention? That shapes so much of us and really has an effect on whether or not we hit our biggest goals.
Courtney Baker:
Welcome to another episode of Focus On This. This is the most productive podcast on the internet, so you can vanish distractions, get the right stuff done, and finally start loving Mondays. I'm Courtney Baker, here with, Blake Stratton. Happy Monday, Blake.
Blake Stratton:
Happy Monday, Courtney. Good to be with you.
Courtney Baker:
Can I just acknowledge, out of the gate, for everybody listening, I want to go ahead and give you a gold star in attention if you're wanting to give some attention to your productivity because you're doing it right now. You're listening to this podcast. If you listen every week, this is kind of one of those things that by giving it your attention, hopefully you're getting those results on the productivity side. So gold star out of the gate.
Blake Stratton:
That leads us actually to the first tactic, Courtney.
Courtney Baker:
Yes. So true.
Blake Stratton:
The first tactic of intentional attention, if I can call it this, or leveraging the power of attention, is repetition. So hopefully you're a subscriber and, no, we won't just make this an advertisement for a podcast that you're already listening to. But, for example, if you subscribe to this podcast, you get in the habit of listening to it every Monday. Just by repeating hearing people talk about productivity, my guess is since you've started listening, just hearing these topics, whether or not you agreed with or did the recommendations that we said, probably just by repeating listening to this, it's affected your approach to your own work. This is why rituals are so powerful, because we're repeating these things intentionally. And the more we repeat stuff, the more we internalize it. And the more we internalize it, the more that stuff begins to change us.
Courtney Baker:
Yeah. This is why reviewing your goals on a weekly basis, hopefully you're doing that as part of your weekly preview process, but you may even be revisiting those on a daily basis, is so powerful. That repetition of reading those over and over again just means that it's going to get your attention. And that attention is your focus. It may be that you want to listen to a recording of a mantra each morning. Maybe there's something that you're wanting to speak into your life and just having that repetition is going to help get your attention. It might be that there's a certain topic that you're wanting to learn about and you may be re-reading a book or re-listening to an audiobook multiple times to really help that content really sink in. So those are some ideas of how repetition… Again, some of these things you may already be utilizing and not even realizing it, but this tool of repetition is going to help you get your attention where you want it.
Blake Stratton:
There's this guy… He actually passed away. I think it was last year, maybe the year before, named Bob Proctor, who's a coach, speaker, whatever, maybe you heard of him. But he started reading this book Think and Grow Rich by Napoleon Hill, really famous book on success and all that. And he said, "I read this book every single day." And he had this old raggedy book and he said, "I've read it every day for 40 some, maybe more than that, years." And he said, "It's because it's not that the words changed, it's that I change. And the more I repeat reading this, the more it changes my internal paradigm, without me having to really think or effort into it." That's the power of repetition.
The second tactic for leveraging the power of attention is visibility, visibility. Be intentional about what you put in front of you, what's in your environment, because when something is more visible, it will be top of mind. A great example is I have these… I probably mentioned this on the podcast, but these Justin's Dark Chocolate Peanut Butter Cups and they are so good. They are the high class Reese's, for those of you that have never tried one.
Courtney Baker:
Yes, yes.
Blake Stratton:
Delicious. And if they're visible in my fridge, they get eaten. When they are hidden, they don't get eaten, because I'm not thinking about them. We've all experienced this. Something's out on the table, we take advantage of it. This is true with your own productivity. You can leverage this power of attention for your own goals. So you can shape your environment, you can put things in front of you. Courtney, have you ever changed your environment or things like that, what's visible, in order to help you become who you want to be or do what you want to do?
Courtney Baker:
Yeah, I mean, absolutely. Matter of fact, I took one of our certified pros that was on the podcast with us a few weeks ago and tore out the first few pages of my planner, so that when I open my planner, the very first thing is my annual goals. There are no pages in between the cover and those goals. And it's actually been really helpful. Of course, I've tried other things like when I was working from home, I had my goals written on my window right beside my desk. Sometimes I have them on sticky notes or even my weekly big three, visibility for that, like a sticky note on my computer. I've tried all kinds of things and I do find it really helpful to just have those things where you see them.
Nick Jaworski:
Here's a question then. I was trying to find it right now and couldn't do it, but I once read something that you have X amount of days before you stop noticing new artwork on your wall or new photos on your wall. We put things up and then it's easy to forget that they're there. We don't notice them as actively.
Courtney Baker:
Yeah.
Nick Jaworski:
So I guess my question is how do you leverage visibility without falling into the trap of, "Oh, it's just there all the time"?
Courtney Baker:
Nick, I literally was just thinking about bringing this up because even those goals that I had written on my window, over time I stopped seeing them. It's like my brain just passed over them. I think that's a really important part of our brain to just acknowledge and know that we're going to have to creatively come up with other ways. But I think the power and the visibility is when you pair it with the repetition. And so it's like your goals, having them in the very front of your planner, and having a tool that reminds you to read through them, it's like those two things together is where the power is really at. Again, both of these tactics are helpful, but together I think exponentially more powerful.
Nick Jaworski:
Okay, Courtney. Today I'm bringing it back to a favorite topic of mine, which is videos that the YouTube algorithm fed me that has changed my life in some way, shape, or form. Now, famously, we did talk about dishwashers one time after-
Courtney Baker:
I'm sorry. You mean the episode that will always be known as the dishwasher episode?
Nick Jaworski:
And I will say on the YouTube video of that episode, there was a comment on there that says, "Actually that was pretty good advice about dishwashers." So thank you to whoever wrote that. I feel validated. I can't tell if within Full Focus people are humoring me or not about this, about the dishwasher. But if you haven't heard it, I'll put a link in the description. You're using your dishwashers wrong. But today, Courtney, is another video that YouTube served me probably in mid August or so. It's called You're Doing Home Organization Wrong.
Courtney Baker:
Okay.
Nick Jaworski:
And I saw it. I watched it by myself, and then for a couple days I was just thinking about it and then I was like, "Ashley, you have to watch this with me, again."
Courtney Baker:
Will you break it down? This can be a quiz and you'll tell me what the thing is that we're doing wrong and I can say if it's true or false. Basically, can I be the judge, jury, and-
Nick Jaworski:
I don't know. I don't know if I can do that. The wrong is a reference into the idea that you'll go on HGTV… There's like whole shows… Or Netflix, whole shows about organization-
Courtney Baker:
Yeah, right.
Nick Jaworski:
…that really push an idea of expensive organization. You have to… I can't think of that name of that show on Netflix, but it's like-
Courtney Baker:
The home Edit.
Nick Jaworski:
Yeah. The Home Edit, which is fine and that's the thing that's going to work for you. That's great. But that it would never work for me. I as a child with somebody who loved organizational things. I want my desk to be organized. I want the paper… I want the pencil organizer, but I never used them properly. So you get them all, you spend a thousand dollars in organizational boxes and whatever, and then you have to keep it up and the moment it starts to slip. So anyway, so that's the wrong that she's referring to is that idea of you've over complicate it.
Courtney Baker:
I see. Okay. I'm so curious.
Nick Jaworski:
So there's 10 things on there. I'm not going to go through all of them, but I'm just going to share… The link is in the description. You should watch it. She's very funny. She might be a little crass. I don't remember if it's in this episode or not. So just FYI, but she's just like sassy. That's the deal.
Courtney Baker:
Yeah. Okay.
Nick Jaworski:
The number one tip that was so helpful for me was corral your crap. Now, she talks about you look at your table, for example, your coffee table where the TV is or something. And you're like you don't have a place to put your remotes. You don't have a place to put the lighter for your candle. You don't have a place to put your candle necessarily that you have in there. Just put a tray there, that spot. And that might be obvious for some people, but she's like… She go walks around and shows you…
Siri:
I found this on the web.
Nick Jaworski:
Hey, Siri, stop. Did you hear that?
Courtney Baker:
Yes, I heard it.
Nick Jaworski:
Siri's Googling how to organize. Anyway, so she walks around and is like, "Here's a dresser bunch of stuff on the top. I put a cutting board here and suddenly this space is organized. This thing has a home for you." So that's one thing that's been very helpful [inaudible 00:14:02]. We went out and we bought a tray for our coffee table. Then now there's a location for things and the things that don't go in the tray, now I have to find another home. And then you're able to go, "Oh great, these places don't have a home. I can get rid of them."
Courtney Baker:
I like this. And it kind of works with something I say all the time that I stole from one of my coworkers is things, put it in its proper place. So it actually helps you know where is the proper place? Because without the corralling, it's just like, "Okay, where do… I don't even know where these things go." You can't put things in their proper place because there is none.
Nick Jaworski:
There is no place. The table becomes… anywhere on the table is the place where these go. And so then that creates this clutter where it's literally, we just bought this brass thing, we put it on the table and suddenly that whole table is settled. It really is. It's so obvious when you think about it, but that's not something we were doing. If you've got something on your mantle or on a shelf, she talks about grouping everything into threes. She's like, "Put them in threes."
Courtney Baker:
Yes.
Nick Jaworski:
Immediately it just fixes stuff. So anyway, there's that. She does have a whole thing about velvet hangers. That is one of the things she talks about, I think especially for women. She's like, "We're not going to talk about buying a lot of things, but I would recommend having velvet hangers because all of the different tops and stuff won't fall off and you can organize your closet." Just throwing that out there.
The big one for us, in addition to the corralling your crap was the drop zone. So what I tend to do and I think most people enter into organization, they go, "I need to organize this space. That would be a really nice space for all of the coats. And that would be a really nice space for all of the shoes. And that would be a really nice place for the books." And they picture the house that they saw on HGTV or whatever, and they go, "I'm going to do that." And this point being is if you find that your shoes are all ending up in one spot, put a shoe rack there, that's where it goes. If you find that your umbrellas end up in one spot or that…
For example, Miles, he's 13 and he's in eighth grade. The dining room table became his homework space. And so he's got papers here and he's got whatever. So what did we do? We combined one and three. We bought a basket, a very nice basket, and we said, "If there's papers that you've pulled out that you don't need in your backpack, whatever, just put it in the basket. That's where that goes. You can put your computer in the basket too. That's where that goes." So everything goes in the basket, we can just move it off for dinner or whatever. And then every week we go through it and just call all the stuff that we don't need anymore.
It's great. It's very, very simple stuff that, again, I don't want to [inaudible 00:16:44]. And then we set an intention around living room, dining room, kitchen. We're going to really keep these organized for the next few weeks just as an experiment to see what happens. There's some other stuff here about subdividing your drawers and using boxes. You don't need to buy the expensive stuff. But those are the two main things that have been so helpful for us that I would recommend. And also watch the video because it's fun.
Courtney Baker:
I do think there is something to be said for basically there's a correlation with the [inaudible 00:17:16] of the intentionality in the beginning actually makes it so much easier. It's the same when we're planning of like, "Okay, we spend some time being intentional with our weekly preview because it makes the whole week easier." It's the same with how we run our house. Even from a business side. I'm sure Nick, for you, it's like, "Hey, when I start my day and I'm not in this chaos, it makes it easier for me to transition into the next phase to accomplish what I need to get done for the day."
Nick Jaworski:
Yes. I forgot, there's actually another… There's two other big takeaways from this video that I want to throw out there. And again, I know that… I sense, Courtney, that you're a very organized person. So some of this stuff you probably already know. That's fine. This is for the people… The [inaudible 00:18:09] of the world.
Courtney Baker:
No, there's been some great stuff.
Nick Jaworski:
She's really big on closed storage. If you have open storage, you have an open shelf, you have a glass, whatever, you're just asking for extra tasks. She's like, "It looks nice, but why?" Which I think is interesting. Her theory is that if it takes five minutes to pick up a room at any given time, that you have too much stuff in the room. And that is now time to think about it. And that number is very interesting to me. You go five minutes to go into the family room or living room, whatever, pick up. Could I do that? We could do that in the living room now after implementing that other stuff.
Could I do that in my office? No. No. Not at all. And so it provides a little bit of… Not even my desk, I don't think I could do in five minutes right now. So it provides a little bit of structure to, is there too much stuff? And actually and honestly to our child going, "Okay, could you pick up everything in here in five minutes? If not, then it's time. We got to go." And that we're all doing it helps.
Courtney Baker:
Listen, we may need to have a discussion with the American Girl company before my child can pick up her room in five minutes because all the little tiny things.
Nick Jaworski:
Yeah. But she's got to corral her crap, right?
Courtney Baker:
Yeah. Yes.
Nick Jaworski:
There's a place for them that they go and then… So anyway, the five minutes and the last thing was that to let go of the guilt of letting go of things. Marie Kondo talks about, "Does this spark joy?" And her take on it's a little bit different. She's like, "That's true and that's great if that works for you." But her question she asks herself is… If I find something like I find a mug or whatever. Here's this mug. This is a mug. It says, "World's okayest dad." My kid got this for me for Father's Day. I love this mug. Now if this broke, the question I ask myself is… Or even if it doesn't break, if I picking up and I go, "Should I get rid of this?" The question I ask is, "How much work would I take to fix it?"
Right? That's the question. And so there's so many things that we have that were afraid of letting go, but we might be relieved in some small way that like, "Oh, now I was a reason to get rid of it." And I think that's a very clever way to think through stuff. It's like, "If this broke, would I spend any energy trying to solve this problem or would I just get rid of it?" And so I think that's a great way to do it. So anyway, that's a real quick rundown. It's not as fun. She's very funny and this isn't as concise as the dishwasher, which is put your stuff in your dishwasher. But I can say that this is another example of YouTube coming through big for the Jaworski household.
Courtney Baker:
I love it. I love it. Velvet hangers for everyone.
Nick Jaworski:
That's a controversial one apparently.
Courtney Baker:
Really?
Nick Jaworski:
Does that make sense to you?
Courtney Baker:
Yeah. I mean, my husband has all the velvet ones. I have all wood ones, which is not… Honestly, they need to get switched out because they take up more room than the velvet ones. But it doesn't seem controversial to me.
Nick Jaworski:
Watch the video. I do want to remind you that there might… I don't remember if this video has it or not. There might be some language stuff in there, but she really is cutting through a lot of just the prettiness of home of HGTV and Netflix and stuff, which is very helpful. I usually watch those and go, "That ain't me." Like you'll go, "Wow, that closet looks really nice, but I know it's not happening because I'm going to put the shoe over here."
Courtney Baker:
Right.
Nick Jaworski:
Whatever. So anyway, that's it.
Courtney Baker:
Or, "It's going to happen one time." Yeah.
Nick Jaworski:
Yeah. And then it's over. Check it out.
Courtney Baker:
[inaudible 00:22:06] Nick, I [inaudible 00:22:06] think we need a segment name. Nick's…
Nick Jaworski:
Yeah. The Algorithm Doesn't Suck. I don't know. The Algorithm Came Through for Once. We'll think of it.
Courtney Baker:
Okay.
Today's tip to level up your focus is to write down one message that could change you for the better if you really believed it. Then post this message in two obvious places you'll be bound to see as you move throughout the week. Also, if you want another thing to help you with visibility on productivity, you may not know this, but every month we have free wallpapers for your phone and you can download those anytime at fullfocus.co/downloads. They are awesome, Blake, Nick, I don't know if you've ever downloaded these, but every month I'm changing mine out. And so it helps with both of these on visibility and repetition.
Blake Stratton:
All right. Felicity, do you want to say, "Stay focused"? Or do you want to say, "Happy Monday"? Or do you just want to say, "Hi"? Lamy wants to say, "Hi."
Nick Jaworski:
Hi, Lamy.
Blake Stratton:
Thanks for joining us on Focus On This.
Courtney Baker:
This is the most productive podcast on the internet, so share it with your friends. And don't forget to join our Full Focus planner community on Facebook. We'll be back next Monday with another great episode, until then.
Felicity:
Stay focused.