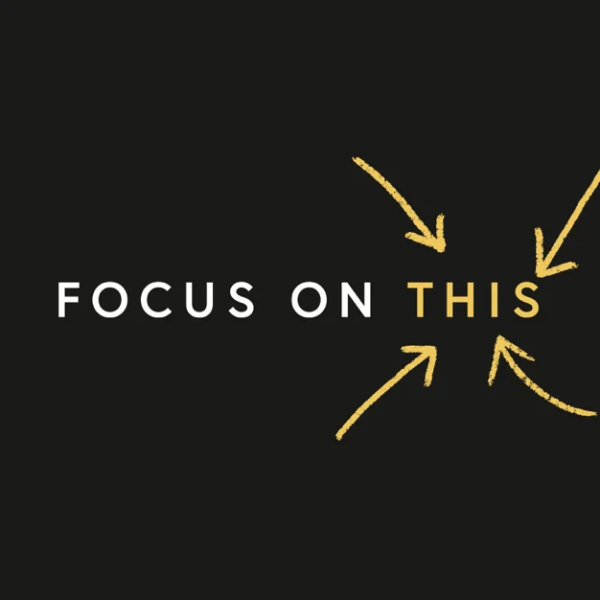 Bonusode: Join the Inaugural Class of Full Focus Planner Certified Pros
Audio
Overview
You've incorporated the Full Focus Planner into your day-to-day life and have transformed your productivity. But you want to go even deeper. You want to maximize the Planner to the fullest and become a power user. You want to be able to display your expertise to customers, colleagues, and potential employers—and maybe even discover new revenue opportunities. Is there a path to all this and more?
In this bonus episode, Courtney talks with special guests, Michael Hyatt and Megan Hyatt Miller, about the new Full Focus Planner Pro Certification program. They discuss what this program makes possible for you and how it will open the door to a whole new level of productivity, goal achievement, and success.
In this episode, you'll discover—
Who the Full Focus Planner Pro Certification program is for

How to get insider access to product announcements and testing

What bonus gifts are on offer for those who register in 2021

A new, exclusive community for deeper connection and in-depth training
Resources:
Related Episodes
Episode Transcript
Courtney: Hello, and welcome to this bonus episode of Focus on This, the most productive podcast on the Internet. I'm Courtney Baker, and we're bringing you this very special episode, because I have some amazing news for all of you Full Focus Planner users. I am so, so very excited. To help me share the news, I have some special guests with me today: our very own Michael Hyatt and Megan Hyatt Miller. Hey, guys.
Michael: Hey, Courtney.
Megan: Hey, Courtney. This is so fun. It's like a little reunion.
Courtney: Yeah. How do you feel about being on the Focus on This podcast?
Michael: It's an honor and a privilege just to be anywhere with you, but especially to be on this podcast.
Courtney: You know, we talk about y'all all the time on the podcast, and I always wonder if word gets back to y'all or not or if you're just along for the ride.
Michael: Only the bad stuff. And the good news is that's only about once a week.
Courtney: Oh, please. No. Well, it's really good to have both of you with us today. I'm so excited to share this news with everybody, but first, Michael, can you give a little background on the Full Focus Planner?
Michael: Sure. We launched this planner back in 2017, if you can believe it. Initially, we thought, "Gosh, if we could sell 25,000 or 50,000 copies, we would be in, what we call in the South here, tall cotton." Many of us came from the book publishing world where that would be a best seller. We've sold over 850,000 copies so far, and it keeps increasing every single year.
Almost from the beginning, Courtney, we started getting requests from people who wanted to be able to teach it to their employees or their colleagues or even to use it with their coaching clients or their training clients. Essentially, what they wanted, even though not all of them used this language… They wanted a certified program where we would authorize them and license them to use our content, our training materials, and go out there and help other people become as productive as the Full Focus Planner had made them.
We kind of dragged our feet on this whole program because we wanted it right. If we were going to launch a certification program, we wanted to make sure all of the T's were crossed, all of the I's dotted. We wanted to make sure the program was enormously helpful, of tremendous value, and really helped our customers and clients accomplish their goals.
Today…drum roll…we're announcing the Full Focus Planner Certification Program. This is your opportunity to become a Certified Pro (that's the language we're using), to kind of be an ambassador for the whole brand and, at the same time, help other people, maybe even help yourself a little bit, as you do this.
Megan: It's really a way for Full Focus Planner power users to go even deeper. I mean, you guys are enthusiastic about this. Many of you don't want to use it only for yourselves. You want to be able to teach it to other people. You want to be able to maximize your experience of it and go all in on the planner. What we have loved here is creating this pathway where you're able to take the expertise you learn in the certification process to your customers, to your colleagues, to your potential employers.
Those of you who might be looking for a new job right now, or thinking about that in the future, this is a great way to leverage your expertise and the expertise that's wrapped up in the Full Focus brand to develop opportunities for yourself and those you're serving in your context. As a bonus, we wanted to highlight a select group of Full Focus Planner power users and help them stand out as a trusted productivity resource within the Full Focus Planner community, which, you know, y'all are right here with us on the podcast today.
Michael: Yep, that's right. We wanted to give our most enthusiastic supporters visibility on new products, a direct line to provide feedback on solutions well before they're available to everybody else, and in some cases, the opportunity to beta test some of our upcoming products. We also intend to provide a marketing plan, collateral, and best practices to aid those experts in finding new customers and boosting their own revenue. So, we created a new program that has done all that and more, and I couldn't be more happy with it. We're calling it, again, Full Focus Planner Certified Pro. That's what you become if you go through the certification process.
Megan: Full Focus Planner Certification is a training and certification program that teaches people how to get every single ounce of productivity out of their Full Focus Planner, and it includes, most importantly, a full day of training led by you, Dad, followed by an assessment to gauge mastery of the content and certify participants as one of our trusted Full Focus Planner experts. So, at the end of that, you get the badge that says you are a Full Focus Planner Certified Pro. It's a big deal, really.
Courtney: It might be helpful to give people a framework. The way you're going to become a Full Focus Planner Certified Pro is you're going to go through our training. Michael, I think we have two live trainings that are going to be done with you, but we're also going to have it on demand. Once you go through that training and pass the test, the assessment, you are going to be recognized as a Certified Pro. There are four groups of people who are probably going to be really interested in this, and I would love to break that down and kind of talk through these groups.
The first is for people who just want to become a master at the Full Focus Planner. They're really excited about continuous growth, which is one of our core values here, as a company. That's what we're all about. You love talking about the Full Focus Planner, and you would love to be able to do it with the next level of mastery. At Thanksgiving dinner, you're talking about the Full Focus Planner. We love you people. That's one group. Right?
Megan: You know, Courtney, I think the thing about this is… We all know this from our experience. When you learn in this certification process how to teach others how to get the most out of their Full Focus Planner… You learn how to teach people each of the tools inside the Full Focus Planner. You learn how to apply these things and maximize them with case studies and all that. When you do that, your own mastery of the Full Focus System goes to a whole new level.
For those of you who have ever taught a class at church or a book study about something… Half the reason to do that is because you become the very best student. Your mastery of that content is, honestly, unlike any of the people you end up teaching, because you have to learn it at a different level than you would otherwise. So, as somebody who is passionate about learning myself (as you said, continuous growth is one of our values here at Michael Hyatt & Company), this gets me so pumped, because if I wasn't already doing this, I would do it for this reason alone.
Courtney: The second group of people are people who are just looking to elevate their status. They're looking to stand out from the crowd and link their personal brand to the Full Focus brand, either on their résumé or on social media, maybe on their LinkedIn profile. This is really letting people who are in leadership above you know you're an expert at driving focus and performance. That could be, like, Megan, you mentioned earlier, somebody who's looking for a new job or just somebody who's looking to advance within an organization. I think this is a really important status, and once it's on your résumé, it's there forever. Right?
Megan: I think this is a big deal, because one of the things your prospective employer or your current boss is thinking about when they're thinking about promoting you, hiring you into a new job, or whatever, is "Does this person have the ability to drive results, and how risky is it to promote them or to hire them for this job?"
Anything you can do to de-risk that, anything you can do to say, "Hey, there's an outside third party that has certified me that I am a person who knows how to drive focus and execution, ultimately performance, on a team," using something with the kind of brand credibility as the Full Focus System, that's going to help you.
Maybe it's going to help you ask for a higher salary or maybe it's just going to help you to end up with a better situation in a new position you're applying for. Regardless, it's going to set you apart as someone who not only can produce results, but as someone who is kind of a self-starter, who is committed to their own growth and willing to invest in that.
I mean, those are the kinds of people I'm looking for inside my own company. Those are the kinds of people I love to hire. Those are the kinds of people I love to promote. Ultimately, those are the characteristics of successful leaders and successful individual contributors. So, this is one not to be discounted, that's for sure.
Michael: This is not unlike getting a college degree or anything else that credentials you. It basically says to the world, "Hey, it's not just me tooting my own horn here. I have third party validation. I've been through a system that validates me as an expert, and I'm a bona fide expert." So, if that's important in your job or important to what you're trying to do in the world, then this could be for you.
Courtney: All right. The next group are individuals who are looking to drive value for your clients. These are coaches, consultants, even life coaches, therapists, people who are hired to help solve problems for individuals. Again, there's a whole host of different roles that might play, but as a Full Focus Planner Certified Pro, you'll be prepared to remove the most frustrating obstacles to staying focused and delivering results that your clients face every day.
Michael: I was thinking about this, and I thought that everybody who's in coaching… I don't care if you're a fitness coach, a life coach, a business coach, a nutrition coach, whatever you are. It really comes down to two things: Can you help your clients set meaningful goals, and do you have a system for them achieving their goals?
Well, the Full Focus Planner is exactly that. It does both those things. It's our system for goal achievement and, basically, productivity, and it really will help people achieve more by doing less and get the results that you want for them and they want for themselves. So, I think this is applicable to basically every kind of coach there is out there.
Megan: The other thing is that, as a coach or consultant, you're kind of only as good as the tools you have in your toolbox. Your clients are going to come to you with, as Courtney said a minute ago, frustrating problems, things that are standing in the way of the goals they want to accomplish in their lives or in their business, and if you have things you can offer…
For example, if they feel overwhelmed and you can show them how things like the Weekly Preview or the Ideal Week tool can help to calm the chaos, can help to simplify things and keep them focused on what matters most, or if you can walk them through a Quarterly Preview process and realign them back to their annual goals…
Those are breakthrough tools that so many people have not been exposed to, and once they are exposed, that is the difference-maker in them being able to accomplish the things they hired you to help them accomplish, which, ultimately, is how they determine your value. Did you, as their coach or consultant, help remove the obstacles that were standing in the way of the things they wanted?
What we know is, 850,000 Full Focus Planners later, we've removed a lot of obstacles for a lot of people, and we know what we're talking about. You can have access and now a license to take those tools into your meetings with clients…coaching clients, consulting clients, etcetera…in a way you never have before, and it's going to set you up to be a hero in a pretty incredible way.
Courtney: I think this last group plays off of that, and that's people who want to train their own teams and drive performance within their team or company. We get asked all the time, "How do I take the Full Focus Planner into my team or my company?" I think this certification program is the key to that, you know, having everybody using the same vernacular, kind of pointed toward the same set of goals. That will really move the needle in your company. So, if you're somebody, like, maybe you lead a team, this is the perfect opportunity for you to get this type of certification.
Michael: We're going to get into it in the training, but we have an underlying model for everything we do that's basically about vision, alignment, and execution. The Full Focus Planner is the best tool we have that enables people to do that: envision the future, get the team aligned around it, and then everybody rowing in the same direction so you can actually execute.
What would it make possible for your team, for your company, for your division or department, or whatever you're leading…? What would it make possible if everybody had, as Courtney was saying, the same vernacular, the same language, the same terminology, and the same system for driving performance?
Megan: You're really acting as a coach to your team. Courtney, you and I have talked about, and, Dad, you and I have talked about many times that, really, a leader is a coach. A leader is an internal coach. What we're trying to do is to inspire, to motivate, to empower our teams to perform at their highest level. The challenge of that is you have to get people on the same page, you have to get them focused on what matters most, and you have to get them consistently delivering results inside your organization. That's no small task, but the Full Focus Planner is one of the simplest, easiest, and yet most powerful ways to do that.
Once you are a Full Focus Planner Certified Pro, you, again, will have license to teach this to your team so that they have this knowledge, these tools in their toolbox, as we were talking about a minute ago, that they can all use together simultaneously. Man! If you think the Full Focus Planner is powerful for you, as an individual, wait until you see what happens when your whole team is using it. Maybe, for you, that's 2 people or 5 people or 20 people or 50 people or beyond. The results are exponential. That's why I think it's so exciting to offer this for leaders inside organizations to finally have access to.
Courtney: Okay. Michael, can you go through what all you get with the certification?
Michael: Yeah. You get some major benefits and some minor ones, but let me cover the seven major ones first. First of all, there's a full day of training taught by me. I'm super excited about this, because I get to teach it. If that's important to you to get the training from me, then this is a training you don't want to miss, because I don't know if I'm going to be doing the trainings going forward, but I'm definitely going to do this inaugural edition of it. By the way, it's all virtual, so you don't have to travel. No out-of-pocket expense for travel or accommodations. It's all virtual. You can do it right from the comfort of your own home.
Secondly, you're going to get a deep dive into the system behind the tools. I know it's easy to look at the Ideal Week or the Daily Big 3 or the Weekly Preview, and all that, and see them in isolation, but there really is a fundamental, foundational system that drives the entire planner. Once you understand that, it's like biggie-sizing your productivity and driving your motivation, and you'll be able to use that in helping other people see how the sum is greater than the parts.
Thirdly, there's a certification assessment. This is the test you're going to take at the end of the day. Just one note here: you have to pass the test before we certify you, but this isn't a test where we try to catch you with the wrong answers. My goal, as the instructor, is to get 100 percent of the people through this. If you pay attention, take notes, and are engaged during the day of training, you'll pass the test. I guarantee it.
Courtney: Okay. Wait. So, this is not like my microbiology class in college? Not like that one?
Michael: No.
Courtney: With, like, A, B, or C, but not D, and never E. Not like that?
Michael: No. It's going to be so much easier than that. It is going to be a test, and it's going to be a written test, but, again, our goal is to get everybody through it. I guess what I'm trying to say is this isn't a certification you can just buy. You have to demonstrate expertise, because we don't want people out there representing our brand who are not experts. We want you to be truly a master of this topic and represent us and yourself well. So, that's the assessment.
You're also going to get direct access to the Full Focus team so that you're never stumped, regardless of the situation you or your client are facing. You're going to also get access to the Certified Pro Community. This is going to provide an opportunity to network with your fellow Certified Pros, share experiences, and get support as you walk the path of a certified productivity expert.
Then the sixth component is that you're going to get professionally produced, branded slide decks that you can use with your coaching or consulting clients or even your employees. It's going to make sure you communicate this in a way that's outstanding and excellent. Then, finally, a marketing plan, marketing collateral, and our thoughts on pricing, should you decide to charge for the training you offer. So, we just want to fully equip you. Now, there are some other minor ones, too, which I'm happy to go through with you, but those are the seven major components.
Courtney: So, those are the major components, but I think some of these, what you've called, minor ones are really good, so what are those?
Michael: Yeah. Probably minor is the wrong word. Let me just tick these off. A free listing in our Certified Pro online directory. That's going to be on our website. There will be a link to it. When somebody is looking for training in the Full Focus Planner, they're going to be able to search and find somebody near them or somebody who's in the same industry so they can get hooked up with the right Certified Pro. So, you're going to get a free listing in that.
You're going to get digital certification that includes social media badges and a group expert badge you can use inside the Full Focus Planner Community, so that, again, you'll stand out and be recognized as an expert. You'll get affiliate commissions for Full Focus resources. In other words, by referring your clients or your customers to us, you're going to get a commission off that.
You're going to get the ability to host Full Focus meetups, along with a leader's guide for making these events an extraordinary experience for those who attend. We've had so many requests for just that one item. Then insider access. I think we said this earlier, but insider access to new product announcements. You're going to hear about new products first before the general public, and in many cases, you'll get to test them before we roll them out to the public. So, I know there's something related to the product itself, Courtney. Why don't you elaborate on that, because we just added this one.
Courtney: Yeah, that's right. Just for full disclosure, when I told Michael about this one, he said, "Now why are we doing that?" It's that good, I think. We wanted those of you who are going to be Certified Pros to have at your arsenal all of our Full Focus Planner library, so that if you're talking to somebody about one of these tools, you can showcase it. When you become a Certified Pro, you're going to get one of each of our current planners, so, every color and every format. I don't have these added up, but it's a value of $1,029.77, to be exact. Let's see, that's…
Michael: Twenty-three products.
Courtney: That is 23 planners. How many years will that get you, Michael?
Michael: A lot. That's why I said, "Why are we doing this? That's too much value."
Megan: I think this is so important, though, because if you think about it, if you are an expert at the Full Focus System, you need to have the entire Full Focus Planner library at your fingertips so you can help your clients know which products might be useful for them. You can use as an example if you're teaching and show them different things. I mean, you really want to have all of those things there. You're either the expert or you're not. So we said, "Hey, if you're going to be a pro, you need to be a pro." That's why you're going to get the entire library. We don't play about this stuff.
Courtney: That's right. I want to be clear that this is only through 2021. Right now, we don't know if we're going to provide this in 2022. We are just doing this for this initial class of people. So, really important. If you're thinking about this, do not wait until 2022. You're going to get all of these planners, plus you're going to get the training with Michael. And there's one last thing. What's that commercial, "And one more thing…"?
Megan: Order now.
Courtney: Order now. One more thing. I can't remember what the line is exactly.
Michael: "And that's not all."
Courtney: That's what I'm looking for! "And that's not all." The other thing that has a short time window here is if you become a Certified Pro by 11:59 p.m. on Wednesday, December 1, you're also going to get a marketing master class. This is all about the best marketing strategies for you to use in your business to promote this new certification.
This is going to be an inside look at how you can get the word out, how you can use this to your advantage in your community. So, you're going to get access to our marketing team, who are really great people, if I can say so myself. Again, that's going to end on Wednesday, December 1.
Megan: Courtney, I love, love, love this, because, as someone who intimately knows our marketing team, y'all are a pretty crackerjack team over there, and you guys know the Full Focus Planner inside and out. I mean, you eat, breathe, and sleep Full Focus everything, and you've really put a lot of thought into how someone can get the most out of their certification in their business, how they can make sure their clients and customers know about the new value they have to offer and really understand how it connects to their customers and so forth.
So, like every single thing we do, this is the best. We're all about excellence at Michael Hyatt & Company, and this marketing training is no different. I think this is going to be a great value to our Certified Pros.
Courtney: I think a lot of our planner users are probably chomping at the bit right now, so how do they get started becoming a Full Focus Planner Certified Pro?
Megan: This introductory price ends on Wednesday, December 1, and it is the best price guaranteed. I am 100 percent sure it will go up in the future, so this is an exciting opportunity. You do not want to miss out, guys.
Courtney: It's kind of like that very inaugural class of people who purchased the planner, you know, what you were talking about, Michael, back at the very, very beginning. They got the absolute best price on the Full Focus Planner. It's kind of the same thing for Certified Pros. So, if you are listening and you're like, "I'm totally ready to go," you can enroll right now at fullfocusplanner.com/certified.
I am so excited about this. I'm really excited to see all of the meetups our pros are going to host all over the world, really, in their communities, and just the knowledge that's going to be shared within companies and from coaches. It's an exciting time. All right. Megan and Michael, any final thoughts today?
Megan: Well, Courtney, as we're looking ahead at the new year and thinking, "How do we set ourselves up for an amazing 2022?" and I think about this Certified Pro program we're offering now, there are really four reasons why you would decide to join the certification program.
First, you want to become a master at the Full Focus System and the Full Focus Planner. You are somebody who's committed to continuous growth, and you know that in learning how to teach it, in learning how the system behind the system works, you will have a different level of mastery. So, that's the first reason: you want to become a master.
The second reason is to catapult your status, either inside your organization or with, potentially, a new organization you're interested in joining. Knowing you have the credibility of Full Focus Planner certification behind you says something important about your ability to drive focus and performance in an organization, and that's going to open up opportunities for you.
The next reason is you are somebody who wants to add more value in the new year to your clients. Whether you're a coach of any kind or a consultant of any kind, you want to put some tools in your toolbox that enable you to remove those frustrating obstacles your clients are experiencing that stand between them and the things they want.
Then, lastly, the reason for becoming a Certified Pro is to train your team and drive performance. If you're somebody who wants to get everybody on the same page…you want to get them focused on what matters most, and you are serious about consistently delivering results inside your organization…becoming a Certified Pro is for you. So, those are the four reasons I think certification makes sense and offers a big opportunity as we head into the new year.
Michael: That's right, Megan. Those are four compelling reasons. I would just like to leave people with this thought: What would it make possible for you if you became a Full Focus Planner Certified Pro? What would it make possible for your own productivity, your own goal achievement? There's that level.
What would it make possible for your clients and customers or for your employer or your employees or just the impact you're trying to make on the world? I think the people who are able to visualize the future and have a system for bringing it into the present are the people who are going to win, and that could be you.
Courtney: All right. If you are ready to enroll, you can do that at fullfocusplanner.com/certified. Michael and Megan, thank you for being on Focus on This. I feel like it's such a treat whenever y'all are here.
Michael: Thanks, Courtney. I love being on the show with you.
Megan: Courtney, thanks so much for having us. This has been a blast.
Courtney: We'll see you next week with a brand-new episode of Focus on This. Until then…
All: Stay focused!