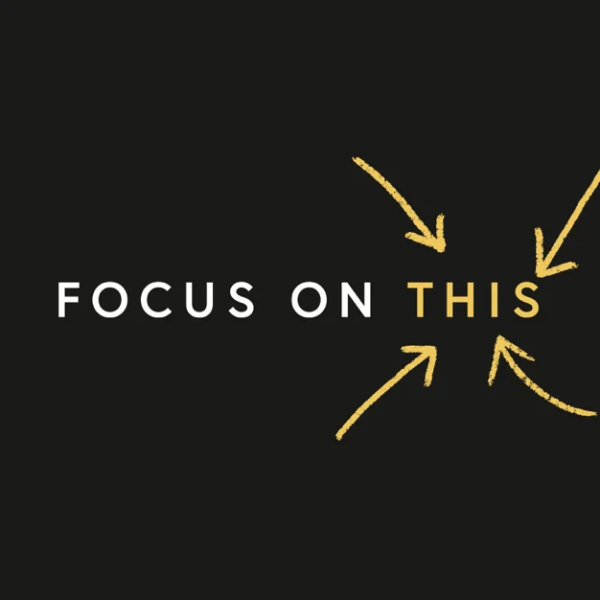 153. 4 Tools to Defeat Distractions and Interruptions
Audio
Overview
It seems like the moment you try to do important work is always precisely aligned with the moment that the whole world suddenly needs your attention. Your boss might need you. Your kids might need you. Your own thoughts interrupt you and pull your attention away from the important work at hand. The good news is that it doesn't have to be like this.
In today's episode, Courtney and Verbs give you the tools you need to defeat distractions and interruptions. If you implement just a couple of these tools, you're going to find that you're getting a lot more work done.
In this episode, you will learn:
How to prepare others that you're busy
A few ways to use technology in your favor (and how to fight off the distractions)
How to simply get down to business when the time has arrived
To watch this episode on YouTube, visit: https://youtu.be/KZYPCg1qqAE.
For more focus goodness, visit www.focusonthispodcast.com.
Episode Transcript
Verbs Boyer:
Hi, Courtney. Here we are full disclosure, what is it that is typically a distraction for you while you're working?
Courtney Baker:
Well, lately I've been at the office more and we're right here in downtown Franklin which is south of Nashville and we have a lot of wonderful musicians in this town. I would not say they're coming out to this street corner, but the folks that are, they're trying to improve, but they're driving me absolutely crazy. So that's been a recent distraction for me. I would love for one of you two with some talent to get out here and play. That would be nice. So that's a distraction lately. I would also say and probably like everybody else, when you get that ding on your phone, that text message, and you're like, "I'm just going to go look at this text message really quick and I'm going to get back to writing this big project plan." But then you look at your phone and then you realize you had a text message from earlier. And then you think about, "I should probably order some eggs and milk for a pickup order on my way home." Get that done really quick. And all of a sudden, it's like a cascading series of events that happens on your phone before you actually get back to your project plan. I would say those are the big ones for me.
Verbs Boyer:
Yeah. I'll say for me, definitely. If I had my phone too close to me and it's facing up, even though I've put on focus mode or do not disturb, if I see it flash and it catches my eye, then I'm throwing off for a few moments. Then eventually I'll have to just go ahead and remove it from my space. Just so I'm not prone to do that. So any kind of messages can distract me as well. And as I've shared before working from home we're family that home schools. So if I can hear like my wife giving our children in instruction, and then she has to repeat herself once or twice, then I'm like, "Okay, these guys aren't listening. Let me go and try to regulate the matter." That could be distracting. But yeah, those are some of the things for me that can definitely knock me out of my focus mode. But luckily today we're going to be looking at four tools that you can use to defeat distractions and interruptions during your day.
Verbs Boyer:
Welcome to another episode of Focus on This. This is the most productive podcast on the internet. So you can banish distractions, get the right stuff done, and finally start loving Mondays. I'm Verbs here with Courtney Baker and obviously our producer, Nick. Happy Monday to you both.
Courtney Baker:
Happy Monday.
Nick Jaworski:
Happy Monday.
Courtney Baker:
One of the reasons, before we dive in, one of the reasons I really love talking about this is because so many times when we've kind of laid out what we need to focus on, what we need to get done, what we need to pursue to have that sense of fulfillment at the end of the day gets compromised by distractions. And so I love really what today is about is helping you leave today, tomorrow, this week, feeling like I got the right things done. I have that sense of fulfillment. So just keep that in mind as we go through these tools of like, "Okay, these are the things that are going to help get rid of distraction, banish distraction, and help me get the right things done this week."
Verbs Boyer:
That's good. So let's look at the first tool, which is signals. We have to learn how to read these signals. Now a signal is anything that tells you and the people around you that you're in focus mode, and you're not available at that moment. I'm going to bring this up. I think I might have mentioned this before on the show before I let you respond here. But I remember one day, I think we had just started the podcast and you were in the office working at one of the standup desks. You had your headphones on, your EarPods. And it was a question, I think about a script where I was like, "Hey, we're about to start recording. She won't mind if I ask this question, blah, blah, blah." So you had on the headphones and I was like, "Courtney," and you were reluctant to turn, because you were like, "If I get to do my attention at this moment when I'm trying to finish this up, then it's a wrap and it won't get done." But I remember that because it was like, "Oh, this is a signal she has on her headphones. She's fully focused on the TV screen. Maybe I should just wait to a more opportune time." But it was just funny moment because it was like you wanted to answer, but you didn't want to answer because you wanted to get your stuff done before we started recording.
Courtney Baker:
It was like, I probably took my headphones out in slow motion.
Verbs Boyer:
That's exactly what you did.
Courtney Baker:
You know.
Verbs Boyer:
Yes. Yeah, that was awesome.
Courtney Baker:
Hey, pro tip here. These AirPods, I have AirPods in right now. Verbs has them in. They're great. But the signal is not big enough. You want to do this right, you need to have headphones on our producer, Nick, has on right now. They're huge.
Verbs Boyer:
[inaudible 00:05:31].
Courtney Baker:
If I would kind of headphones on over the ears he would've seen from the door like, 'Oh she has headphones on. I'm not even going to get that close." So word for the wise, those huge sound canceling headphones game changer, highly recommend those.
Verbs Boyer:
For the record, I saw the EarPods. I just was violating regardless.
Courtney Baker:
Oh, okay. The truth comes out. This is where it's a battle of the wills because… I don't know, if you've ever taken strength finders before. My number one strength is, its very on brand, is focus. And so once I'm in the zone, it is actually pretty hard to pull me out. And so that slow motion taking out the headphones. That's what you were getting there.
Verbs Boyer:
Understood.
Courtney Baker:
Like, "Hey buddy, I'm using my superpower right now and I don't want to let it go." Well, some other things that might be helpful really to signal to other people that you're focused, and Verbs, this one would've worked for me that day, would've been a closed door, maybe. I would even say, especially now that so many people have doors with glass, even putting a sign that just says deep work is really effective. Another thing if you're working from home, and Verbs, you may do this yourself, but change into work clothes. It kind of tells your family or roommate, whatever that I'm going to work, even though it's in this same building.
Verbs Boyer:
Yeah, no, for sure. I mean, one of the things that I think is most effective for the space I work in at home is I had actually put up doors, some little sliding barn doors, just so my family knows, "Okay, dad's shifting into work mode." And they're old enough to where I have that conversation with them, "Hey guys, if you need anything in this area over here, you have about 30 minutes to get it done. And then after that I'm shutting the door and we're recording the podcast." That sort of thing. So I'll be focused. All of those things really help just shift mentally for you into a focus mode because you're going into it in an undistracted space as much as possible, removing those distractions and smoke signals for the folks that are around you. Even if you're in a co-working space, I mean, I think those headphones are a big deal just to let other folks know I'm not available at the moment.
Courtney Baker:
I will add one. For those of you that are completely virtual. We use this a lot on our team. If you have Slack or some kind of platform like that to signal by actually just communicating it. "Hey guys, I'm going into deep work for the next two hours. I'm going to be completely offline, really focused." And so you are giving a signal. So when you're virtual, you have to be a little more on the nose about it, but it does really work.
Verbs Boyer:
No, that's a great idea. Because I remember whatever your team communication platform may be, there may be a certain level of expectation. If someone sends you a message, what that response time should normally be. So just doing what Courtney said is, "Hey, I'm going into stealth mode for about the next two hours. I won't be available till after 2:00 PM or I'll check these messages again during my workday shut down." That way people aren't sending you messages with an expectation to hear right back from you and then sending another message or trying to get your attention through another communication mode of some sort. But it just lets everybody know, "This is where I'm at. You won't hear from me. I'm focused."
Nick Jaworski:
We talked about wearing clothes, work clothes, even if you're at home. That's obviously a signal to other people. But for me, I'm not saying I do this often or usually or ever. But in the past, in my life, I definitely, I remember one time when I was younger, I was like, "I want to write some more music." I'm a musician in my background. And I was like, "I'm so I'm going to get up and I'm going to put on really nice clothes and I'm going to record." And that feeling for myself, the signal of I can't do bad work when I look like this is also very important.
Courtney Baker:
Please, Nick, tell me you have some pictures.
Verbs Boyer:
[inaudible 00:09:48].
Nick Jaworski:
In my mom's basement in like a tux.
Courtney Baker:
Did you have a leather jacket with fringe-
Nick Jaworski:
No, no, no. [inaudible 00:09:56].
Courtney Baker:
… in the arms.
Verbs Boyer:
That's like macho man, Randy Savage style, if you're doing the fringes on the biker jacket. Oh, yeah.
Nick Jaworski:
No, it was probably like 2002 and I was wearing a Snoopy tie.
Courtney Baker:
Amazing. Amazing.
Verbs Boyer:
All right, so tool number two is a calendar. Courtney, I was today years old last week when I found out that if you want to search for a meeting or look for proposed meeting times that you can actually go into your team's calendar, if you're using Google Suite, and actually see when other people are actually busy.
Courtney Baker:
Oh, yeah.
Verbs Boyer:
I did not know this. So that way you're not going back and forth trying to set a meeting, it's just, "Look, this person is busy, not available at this time." And my mind was blown. Did you know about this already?
Courtney Baker:
I did know about this.
Verbs Boyer:
And you did not tell me? We're still friends.
Courtney Baker:
I apologize. Basically, this episode is about forgiveness. I forgive you for that time you interrupted me. And you forgive me for…
Verbs Boyer:
You're all venting. Again, this is weird.
Courtney Baker:
Yeah. So this is good. This is a healthy podcast episode that we're having here. Yes, you can absolutely do that if you're using Google Suite. And so on that note, when it comes to your calendar, we say this all the time, what gets scheduled gets done. And that's true when it's individual work as well. And so I do this all the time, I schedule my workday startup, my workday shut down. I schedule deep work. I schedule my weekly big three during the week. All of these things are just helpful tools to make sure that I get that distraction free, meeting free time to actually get my weekly big three, get my daily big three done. Especially if you're somebody that is in lots of meetings. Having that calendar space with yourself is critically important.
Nick Jaworski:
Can you talk a little bit more about that actually? So when you set your weekly big three, then do you immediately go to your calendar and go chunk, chunk, chunk, chunk, chunk? And I think that's a really useful tip for people.
Courtney Baker:
Yeah. So what I do is when I get to step four and I use the page in the planner that has or the section that has Monday, Tuesday, Wednesday, has the days with just open spaces. So I'm kind of looking at big things that would be abnormal. And then, so once I kind have an idea of what's coming for the week. And then the next step, step five, is to set my weekly big three. I have a frame of reference of when am I actually going to pursue these weekly big three? Because most of the time there is a time commitment to those items, they're not going to just happen automatically. And if they're going to happen automatically, they're probably not the right choice. Not always, but most likely they're not the right items. And so what I do is just go ahead and kind of figure out where in the week I'm going to plot time to work on those projects. It doesn't always work perfectly. Obviously there are times where a meeting comes up. If I have an executive team meeting or my boss calls me in a team meeting, obviously those things are going to take precedent. But it just helps make sure that my weekly big three in the time that I have available are actually in sync together.
Nick Jaworski:
Yeah, that's great.
Verbs Boyer:
No, that's great. Just that extra step, I think of once you know what times, what days you want to fit that work in. Just making an appointment with yourself as focused time to get those things done that way even when you look at your calendar that commitment is popping up as that color block on your [inaudible 00:13:58] or your Outlook calendar, whatever it is to reinforce that commitment you're making with yourself to get it done.
Courtney Baker:
Well, and I'm glad you just used that language because I think it is really easy to break that commitment with ourselves. It's almost kind of funny that the easiest commitment to break is with me. And so you really have this…
Verbs Boyer:
I do understand.
Courtney Baker:
Yeah, because I'll understand. You're so busy. I think it's really important to kind of treat it like that, a commitment, and even ask yourself, "I made this commitment. Am I going to hold my side? This future self version of me, am I going to hold to the commitment I'm made with my old self?" Is that right? Past self?
Nick Jaworski:
[inaudible 00:14:46].
Courtney Baker:
Past Courtney. "Am I going to hold to the commitment I made with past Courtney?" And so again, it doesn't always work obviously, but I think putting it, framing it, that helps me more likely stick with those time slots that I've assigned.
Nick Jaworski:
I say this all the time, people are sick of me talking about this, but it is the combination…
Courtney Baker:
Is this about a dishwasher?
Nick Jaworski:
Nope. People are not sick of that. That's taking over the internet like wildfire. It's a combination of the tool one, which is a signal, and tool two, which is a calendar, which is I use a platform called Focusmate at focusmate.com. And what you do, in case you haven't heard me talk about this, is you sign up for an account. You can do it for free. You have a limited amount of sessions or you can pay like $5 a month. And it's like at 10 o'clock, I want to work. And then you just put that on a calendar. And then somebody else in the world says, I also want to do work at 10. And so you get together and then they put you on cam together and you say, "Hey, for the next 50 minutes, I'm working on da, da, da." And they say, "I'm working on da, da." And then you just work.
Nick Jaworski:
And so it does a couple things. One, it blocks off your calendar. You can schedule ahead of time which is great. Some people I know will set up a block in Focusmate, like first thing in the morning. Because they're like, "Before I do anything else, I want to be up. I want to be accountable to somebody else. I'm going to be there.: Another thing it does is that when I'm in Focusmate, my family, my time feels different to them because I'm not just working. You can always just pop in when someone's working, you got a quick question. But if I'm in a Focusmate, suddenly they don't want to distract the other person and I've got a goal I'm trying to set. So I just looked up my profile. I have been on Focusmate for 42 consecutive months. I've at least done one session.
Courtney Baker:
Wow,
Nick Jaworski:
I've done 793 sessions which is actually not a ton. I tend to use it kind of sparingly. But I highly, highly, highly recommend it. If you're somebody who works from home, maybe you're a solopreneur or you got a side gig or something. It is really great to just get stuff done with. So Focusmate, that's my push
Verbs Boyer:
Focusmate is great. I've used it myself and it's amazing how a little thing having somebody else on camera just makes you just want to get it done.
Nick Jaworski:
It's crazy.
Verbs Boyer:
Because they're 60 minutes long, right.
Courtney Baker:
It is crazy. Totally works.
Nick Jaworski:
It's like 50 minutes. Yeah, they have a 25 minute. I think also some of it is that it forces you to have a goal. That's the other thing. So I'm like, "Hey in the next…" And I think it's very important to do specific goals. I'll go like, "I've got three task. I'm going to get through 15 minutes to this edit. I'm going to write these two emails. I'm going to do this." And then at the end you got to tell them, they'll go, "How did it go?" And you go, "Okay, I didn't get to task three because whatever." Sometimes it just took longer than I thought or so I find it's a great way to create stakes and drama in your day to keep focused.
Verbs Boyer:
All right. So let's move on to tool number three which is plan. Now you know yourself and you know what's prone to distract you. And so if you make a plan to combat your own behavior, this is going to be helpful with avoiding those distractions. It could like we mentioned the phone. So it could be one, it could be a focus mode that you set on your phone or a social media blocker that's put up on your phone. You may have to take that device and put it all the way in another room, like I often do when I feel myself being distracted by my phone. Or as much as you could, how do you remove yourself if you're in a space with other people that you find it's distracting area to work in? What would you need to do to move yourself into another room?
Courtney Baker:
Or if you're like me and there are people playing not so stellar music on the street, those noise canceling headphones, bringing those to the office. One other tool that is helpful is to just write it out. If this thing happens, if there is someone playing… I'm trying to think all the instruments they play out there, Verbs.
Verbs Boyer:
Was there a accordion player out there at the 110.
Courtney Baker:
Oh, yes. If there's someone playing the accordion on the street, then I will head to Starbucks to work for the next hour or basically make a plan for if that comes up. if I pick up my phone to text, I'm going to move it across the room. Then I will put it in a box for an hour or something like that. Basically, have a written plan.
Verbs Boyer:
And I think this is a language that may be familiar with some of our listeners who were familiar with the Free to Focus book or the course, I believe we call it anticipation tactics. So just as Courtney mentioned, if you're going into a focus session of some sort, it may be setting your phone on focus or just removing it from you altogether before you even start the session because you're anticipating, "Hey, this is work that I may or may not be excited about, but it has to get done in order for me to get closer to accomplishing my daily big three. And so let me anticipate that in the middle of this, I may start to look for other things to help the moment out. So let me go ahead and take this device and put it somewhere else." So that's not even a factor, but it forces me to kind get it done.
Courtney Baker:
Here's another one for you. If Verbs interrupts me during deep work, then I will slowly take off the headphones and hope that he turns around. No, I'm just kidding.
Verbs Boyer:
Or if I know Verbs is coming in the office, I'm going to text him beforehand to say, "Look, if you see me, I am not available until three o'clock."
Courtney Baker:
I am in deep work. I know we're joking around here. But I think, especially if you're back in person at a physical location together with other people, you have that. You have folks that will interrupt your work. And so I think being proactive about how to handle that. When Susie comes to ask about X, Y, Z, how are you go going to handle that? And I think so many times it's just that we just don't have a plan for what we're going to do.
Nick Jaworski:
Now, Verbs, you've done a lot of video editing, audio editing as well, all that stuff. Do you ever run to this issue where people will come in to where you are and they'll start talking to you, not realizing that you cannot… You're listening and viewing things and so not only do you have to stop, but now you have to have them repeat themselves because you were doing other work. It is a real pain point for me, I got to say.
Verbs Boyer:
How do you really feel, Nick? Yeah. I think that's, again… Because you work from home as well, Nick.
Nick Jaworski:
Yes.
Verbs Boyer:
If people don't know that I'm in a editing session of some sort, then they may just yell from whatever room not knowing that I have on headphones. So they're just unaware of that, which kind of goes back to our earlier point is making sure that we're notifying people around us of the work that we're about to start doing. So we are definitely unavailable. But then if you say something and you're not in front of me, I won't hear you, not ignoring you, I just can't hear you literally because I have on headphones. But yeah, that can be a whole thing if we're not making a plan in advance to help subside some of that.
Nick Jaworski:
And real quick, do either of you use screen time on your phone to keep yourself on track?
Courtney Baker:
I do not. I mean, I turn on deep focus. Is that what you mean?
Nick Jaworski:
Well, I'm sure that has elements of it. But on iPhones, at least, which I know we all have, you can set up limits on kinds of apps or specific apps-
Verbs Boyer:
Yes.
Nick Jaworski:
… for how much you can use. I know that Michael Hyatt has used it in the past. I have one block on my phone. I am allowed to use Twitter for 15 minutes a day. And let me tell you, when you keep yourself to 15 minutes, which is by the way, a lot of time, that's not no time. But when you've got a limit, you're very efficient in how you use it. It's usually just news for me. It's like, "Okay, quick, I got in, got out." And I find that to be very helpful. So if you guys aren't using your screen time to your best advantage, if you've got a social media, I don't want to say addiction, but perhaps..
Verbs Boyer:
Interest?
Nick Jaworski:
Interest, yeah.
Verbs Boyer:
Vested interest.
Nick Jaworski:
Or it could be Pinterest. It could be TikTok for some of our younger cooler hipper people or Facebook or Twitter or whatever. I highly recommend. It was a huge deal. It was such a big deal for me to do.
Verbs Boyer:
No, that's a great reminder. I forgot that it actually had that functionality.
Courtney Baker:
Yeah. How did I not know this? Because I'm literally setting it up right now.
Nick Jaworski:
Oh, what are you going to set up?
Courtney Baker:
I'm going to set up Instagram which honestly have gotten a lot better at, but that's the one that if I get in there, I can easily get stuck.
Nick Jaworski:
Sure. It's in, out. Our son has a 15 minute window and his messages on his phone and so it's interesting. So he's got to be in and out as well. Just what do I have to convey? I'm out. What's the plan? I'm gone. It's not a lot of like, "Wait." It's interesting to watch it play out. So highly recommend for everybody. It's there. You can also just look at screen time on your phone to see what you are doing with your time, which is scary.
Verbs Boyer:
Absolutely.
Nick Jaworski:
I promise you will be horrified by what your phone tells you've been doing.
Verbs Boyer:
Especially when it shows you that number. And you think about the time that is show that is showing you on that screen that could have been used for something else.
Nick Jaworski:
I listened to a podcast once and this guy was like, "I stopped bringing my phone into my room at night because yeah, I'm married. And the last thing I do every night and the first thing I do every morning is spend time on my screen rather than this woman that I love. What a waste of my life." And when he said it that way I really was like, "Oh yeah." I'm not going to be on my deathbed thinking to myself, "If only I had been on Twitter."
Verbs Boyer:
Three more reels. You need to watch three more dancing reels.
Nick Jaworski:
Hey, we're in my social media bag right now. You're not going to beat it. It's designed to keep you hooked. So I highly recommend screen time.
Verbs Boyer:
Absolutely.
Courtney Baker:
Okay, the last tip is your daily big three. We talk about that a lot on this podcast. It really is the essential tool to help you focus. Focusing on those fewer task helps you be accountable. Again, if we have a never ending to-do list, there's really not any accountability to that, if you've got 20, 30 items on a list, because no one can do that much in a day. So by specifying, "These are the three most important things that I need to get done today." Really holds you accountable to them. And the reason that's important is at the end of the day, again, we've talked about this several times in this episode, we want you to feel like you got a lot done. That you worked hard and you feel accomplished at the end of the day. And so again, that daily big three is really going to help with that as are all of these tools that we've talked about today.
Verbs Boyer:
All right. In today's tip to level up your focus. We want you to list out your most common distractions then pick the top three offenders and complete the sentence, if… then I will… How will you anticipate those distractions and what will you do if those distractions try to get the best of your focus?
Nick Jaworski:
Here's my unsolicited bonus tip, look at your screen time usage. Do it. Just go look and be horrified.
Courtney Baker:
And be horrified.
Verbs Boyer:
All right. so thank you for joining us on Focus on This.
Courtney Baker:
This is the most productive podcast on the internet and we would love for you to leave us a five star review if you love this podcast. It really helps spread the word about the show and helps us with rankings. And of course, there's always the full focus planner community. That is fantastic. And we'll be back next week with another great episode until then, stay focused.
Verbs Boyer:
Stay focused.