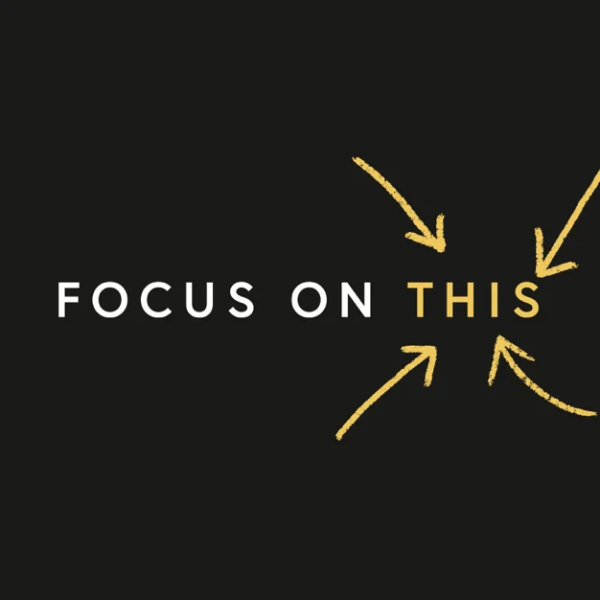 145. How to Leverage Time and Accomplish Your Goals
Audio
Overview
Timing is everything. We often talk about the importance of knowing your why, but when it comes to accomplishing your goals, it's also important to understand the power of when. When are you going to make the space to accomplish your goals? If you choose poorly, you could find yourself struggling to succeed at goals that are both important to you and attainable.
In this episode, Courtney and Verbs talk about two important ways you can use time to your advantage. They also answer a Full Focus Planner Community question about what to do when you fall off the goal-achievement wagon for a month.
You'll learn:
How to create urgency in your goal setting
How to leverage time differently for habit and achievement goals
How to use a time trigger to create space and consistency in your life
You can watch this entire episode (and see the first steps of "The Focus" dance) here: https://youtu.be/xKEwBVm0dws
Make sure to visit the Full Focus Planner Community and leave your time signatures on the post there: https://www.facebook.com/groups/ffpthinktank
Episode Transcript
Courtney Baker:
We should practice some dance moves at the beginning of… Every episode could be a little bit of choreography that you only get to witness if you're watching on YouTube. And then, for everybody on audio, it's just, "We're sorry. You've got one full minute of just awkward ASMR-
Verbs Boyer:
Awkward-
Courtney Baker:
ASMR-esque sounds.
Nick Jaworski:
Yes. Actually, Verbs, what we could do is we could write a song. It's called Do the Focus. And it's a-
Verbs Boyer:
Oh my gosh.
Nick Jaworski:
… mid eighties, late eighties style dance craze, like, "Do the focus!" And you… step one.
Verbs Boyer:
Not to be confused with, "Do the hustle," but yes.
Nick Jaworski:
Yeah, I know. Yeah. Step one-
Courtney Baker:
But-
Nick Jaworski:
… "Get a book."
Courtney Baker:
Verbs, you should let the people know where you're at because I don't think any dance party is going to be happening in the room that you are currently in.
Verbs Boyer:
Yes. I'm currently broadcasting live and direct from the Full Focus offices, away from my normal setup, because this week we are in the middle of our Business Accelerator Intensive run. This is week two. And so, where our offices are located in the same area where we hold those intensives. I was able to break away from that today to be able to come to the office, plug in, so we could talk about some good stuff.
Courtney Baker:
That's right. And if you're curious, Business Accelerator is our small business owner coaching program, which I was there yesterday, Verbs. And it was just so great to be with the people there and hear about their businesses and how things were going. It was just awesome.
Verbs Boyer:
Before we go on, the one thing that is very cool: pretty much every intensive that we have, we always get to hear testimonies of transformation that have been going on. And so, this quarter, we were able to celebrate some people who had their Business Accelerator anniversary. And we posed the question, "Hey, what is one win in business and/or personal that you've experienced over this past year?" And some of stories have been incredible to hear. Just the amount of deep transformation, just not with the individual, but then how that impacts their businesses as well. So it's fun. Fun times here. We look forward to more over these next few days too, so…
Courtney Baker:
I love that. And I bet for all of those clients that had those big wins, that they were able to get what we're talking about, today on this episode, right. Because we are talking about the power of win, which might sound a little confusing right now. But don't worry; we'll get into it.
Verbs Boyer:
We're going to talk about the power of the win. Now, understand this before we get into it, though. It's the why of your goals might be most important, but the win is a close second. Now, win makes space for and creates boundaries around your goals. And it helps you really just build them into your life. Now, in the Full Focus system, we list five different time keys to boost goal achievement. And we're going to talk about two of those time keys today. So, let's get into it.
Verbs Boyer:
Welcome to another episode of Focus on This, the most productive podcast on the internet. So, you can banish distractions, get the right stuff done, and finally start loving Mondays. I'm Verbs here, with Courtney Baker. Happy Monday, Courtney.
Courtney Baker:
Happy Monday. It's good to be here, Verbs.
Verbs Boyer:
Absolutely. As we talked about at the beginning, we said we're going to talk about two time keys that's going to help us out with our goal achievement when considering when is the right time. But could you help us out with the first time key?
Courtney Baker:
Yeah, the first time key, one we're all familiar with, is a deadline. There is nothing that can boost your productivity, quite a deadline. We all know, starting really in our earliest years, that feeling of having something due the next day and working late into the evening; gluing construction paper onto a board for our project, and our parents. We learn early on, okay. Now, there's a hard deadline. And it creates a sense of urgency for us as kids and also our parents.
Courtney Baker:
And so, when you set a deadline, it's the finish line. It gives you a really clear place to work towards. So Verbs, I would love to talk with you about how to use deadlines with an achievement goal versus a habit goal, because I think most people, when you think about a deadline, in your mind, it's pretty easy to figure out how that works with an achievement goal. It's: do this thing by this date. And there you go, you've got your achievement goal.
Verbs Boyer:
It's done.
Courtney Baker:
But how do we frame up deadlines with habit goals?
Verbs Boyer:
No, I think that's a good question. And what I would say to that is we look at habit goals as a series of activities. But the end goal that we're going for, the finish line is the installation of that habit. At what point has it worked into our normal everyday routine, to where we can say, "Hey, this habit, it's installed. It's done. I can now do this almost on autopilot"?
Verbs Boyer:
The other thing that you could do is set milestones along the way of installing that habit. So, there's a bunch of smaller finish lines that you would cross, so to speak, on your way to actually installing that habit. It may take some thought around that, as far as what it would look like, to see what those demarcations were in the habit goal format formula. But I think it's still possible to think of them as deadlines or finish lines we just talked about.
Courtney Baker:
Something that I do that I think is helpful with a habit goal is when I set out the goal, I will say, "Hey, I've got to do this seven days a week, 80% of the time."
Verbs Boyer:
Yes.
Courtney Baker:
So, when I look at it during my weekly preview, I evaluate at that point, did I meet that objective? It's like you said, almost a little milestone that each weekly preview, I'm checking, did I accomplish that deadline for this… I'm using the weekly preview as a deadline of sorts to say, "Did I achieve that or not with this habit goal?" For me, that works pretty well.
Verbs Boyer:
What would a Focus on This episode be without a mention of the weekly preview? And I think that's a great idea, Courtney, because you can actually… This is a good point, a moment to utilize the streak tracker when you check in on your weekly previews at the end of the week or at the beginning of the week to say, "Hey, in my pursuit of installing this habit, how many times have I actually accomplished that?" So, if you set a finish line of at least five times a week of drinking eight ounces of water or… Sorry.
Courtney Baker:
Yeah.
Verbs Boyer:
Eight ounces of water's one glass.
Courtney Baker:
Let's drink more-
Verbs Boyer:
So, if you do that-
Courtney Baker:
… than eight ounces.
Verbs Boyer:
… you'll die.
Courtney Baker:
Eight ounces. We already-
Verbs Boyer:
Yeah, let's do that.
Courtney Baker:
… established-
Verbs Boyer:
That's a good idea.
Courtney Baker:
We established with the episode that we did with Amy Porterfield… I can't remember which episode number that was, that you and I are not great at doing water challenges. But I think you and I can do more than eight ounces. I think we got that.
Verbs Boyer:
How about eight glasses? Eight glasses of water a day?
Courtney Baker:
Eight glasses.
Verbs Boyer:
You want to install…? Up your hydration?
Courtney Baker:
Let's do that. Yes. That's so funny.
Verbs Boyer:
Yeah. So, you can look at your weekly preview check-ins and attach your streak trackers there, and somehow set a finish line for your week to see if you've actually accomplished that.
Courtney Baker:
I think that this is really important because again, what we don't want us to have a habit goal and not be able to benefit from that urgency, that drive that gets us to the finish line. And so, as you're thinking about your habit goals, just think about, hey, how could I use a deadline here? Maybe it's what we're talking about here with your weekly preview. I think that's a really great hack to think about your habit goals with.
Nick Jaworski:
If I could pop in here, when I think about time, a deadline, there is nothing that creates more excitement and risk than a deadline. So, if you're looking for a way to go, "How do I take this goal and make it exciting and risky?" put a deadline on it. Make that happen. And you can see it in our house. Every once in a while, I'll go, "Guys, we have 10 minutes to clean as much as we can in this house right now." And when that happens, suddenly people are jumping up. They're running around. We got 10 minutes, and then it's over. It's very exciting. We'll play music; we'll do other stuff like that. And so, without that, "10 minutes and then we're done," without that deadline, it doesn't have that energy. And so, I really feel like if you've got a goal that you want to hit, the deadline immediately fulfills two of your smarter goal criteria right away. So, that could be another way to get you moving.
Courtney Baker:
I love that. I think that's great advice.
Verbs Boyer:
Let's move on to time signature number two, which is time trigger. A time trigger is what describes when in the day, or your week, where you'll complete a task. For instance, if it's, "Every Tuesday at 11 o'clock, I'll do this." "Every Thursday, after dinner, I'll do this." It's a way to make space to build your goal into a rhythm throughout your week and another way of saying, "Hey, what gets scheduled gets done." When you're identifying those time triggers, it helps you connect another action that will have to take place when that trigger hits.
Courtney Baker:
What I love about this is when you're creating your goals, I feel like this is kind of the problem with New Year's resolutions where you're just, "I want to do this thing." But actually building smarter goals and especially if you're adding a time trigger to it, it forces you into asking, "Is this relevant in my life?" Because if you can't figure out when you're going to do it, you are going to accomplish it. I hate to be the bearer of bad news, but I think that's what's so important about this is, if you can figure out this time trigger, your likelihood of actually achieving your goal goes up astronomically. I wish I had a percentage. We should do a big study on that, on this whole philosophy, to see if we could actually come up with some data around this. But astronomically, a bajillion times higher. That's my scientific number for if you have a time trigger with your goal.
Verbs Boyer:
Yeah. And that's huge. Or, it could also mean, if we could say this, that there's probably other things within your life that you may need to maybe rethink to possibly move those away or stop doing those things or what we would call, there's a list of things you probably need to quit in order to make space for this other time trigger that you're trying to implement, possibly.
Verbs Boyer:
But it's worth the assessment of looking just at your time and what you're currently doing if you feel there's something new, a goal that you're you're formulating and there's a passion attached to it, but you just feel like, when will I do this?
Nick Jaworski:
Do you know how Bill Gates or Mark Zuckerberg or Barack Obama… You know how they wear the same clothes every day?
Verbs Boyer:
Fred Flinstone also.
Courtney Baker:
Fred Flinstone.
Nick Jaworski:
There's something about they do that so they don't have to spend any mental energy on deciding what they're going to wear. They want to use that energy elsewhere to make different creative decisions that are going to affect their life, affect their business. And in this case, for me, it's: when am I going to run? And if I don't have a time selected, then all day I'm spending all of this mental energy going, is it now? Is now a good time? Well, if I don't do it now, it's going to be later.
Nick Jaworski:
And then, this other thing's going to come up, and I'm going to be stressed about the whole… So, you save yourself a lot of emotional capital just by having a time there. It's like the child who needs to do the homework. Let's have a time that homework happens every day because otherwise, you're going to spend a lot of energy figuring out when to do it. And then maybe it doesn't happen. So, that's another reason why I think this is very helpful.
Courtney Baker:
It's almost a form of torture because that constant, am I doing it now? Am I going to do it later? Sometimes I just want to get it over with just so I don't have to do that to myself. It's this ongoing mental thing that I'm trying to constantly figure out when I'm going to do it. And I think that happens with our goals too, even if it's something you're excited about. Sometimes it might be that you're excited about the outcome. It doesn't mean you're going to be excited every step of the way. It just means you ultimately are excited about what you're pursuing. And so, there are moments where you're, when am I going to run? I don't really want to run. You're going to have those days you don't want to run. And I think this acknowledges that, in a way, but holds you to the time that you've set aside. Again, we say it all the time… I need a bumper sticker. "What gets scheduled gets done."
Nick Jaworski:
Yeah. You just have to surrender to the plan that you've already made. It's way easier. You don't have to fight against the current of all the stuff that's happening. You just float around, and you get where you need to go. It's a lot easier. Yeah.
Courtney Baker:
It's almost your present self has to trust your past self. Just do what I've already decided to do. I'm not going to re-litigate it with myself.
Verbs Boyer:
And just because I don't want what you just said, Courtney, to be missed because I think it's an important connection is, even though in the smarter framework, E stands for exciting, and you're excited about the goal. But like you said, it may not necessarily mean you're excited about the journey or the process that it's going to take to get there. But when you think through, hey, what this is going to take is consistency; then I can enjoy the excitement of completing and accomplishing this goal, then that's where you want to be even though the process may not be all popcorn and funnel cakes. But the end result is going to be exciting for you. So, just something to think about as you're continuing to think about how you think about your goals, especially whether or not they're exciting.
Verbs Boyer:
Now we've come to a point where we get to dive into some questions that have been posed in the Full Focus community. If you're not a part of that yet, please hop on Facebook and join us there. Lots of important conversations and enlightening conversations around [inaudible 00:15:56]. But today our producer, Nick, has a question; questions from the community.
Verbs Boyer:
There it is.
Nick Jaworski:
Okay. This is a question from Dave. Dave asks, "How do you recover after having a month where you didn't get much done or lost focus?"
Verbs Boyer:
The first thing that popped in my mind was a line from an R&B song by an artist named Aaliyah who had a song called Pick Yourself Up and Try Again or Dust Yourself Off and Try Again.
Courtney Baker:
Can you sing-
Verbs Boyer:
I actually have to-
Courtney Baker:
… it for us?
Verbs Boyer:
… Google that now, but…. Absolutely negative.
Courtney Baker:
Maybe you should sing it and see if it comes to you. That is a good, inspiring… I think that is right. I think you just have to say, "Okay…" You can do a little bit of an after-action review, on the last month, to take a second and follow the questions in your weekly preview about the full month and just ask yourself what worked, what didn't work, what will you keep, improve, start, stop? Just to have a moment to, yeah, it didn't go how I thought it was going to go. Acknowledge it.
Courtney Baker:
And then, the nice thing about the month changing is you have a fresh start. And so, I think there are two areas that, if I were in your shoes, I would focus on. And that is either reinstalling my weekly preview and just saying, "This month, I'm just going to get back in the rhythm of having my weekly preview," or really getting back on doing your daily rituals. If you can do both, great. But I would just say just focus on one. Set the bar kind of low for yourself and get that sense of momentum for the next month. Just say, "Hey, every Friday afternoon, every Sunday evening, I'm going to do my weekly preview for this month." And I think that small thing, it's like dominoes. It's not going to take much of getting your weekly preview back installed for it to be natural for you to do your daily big three.
Courtney Baker:
And obviously, you're already doing your weekly big three. And so again, I think those are two things that help those dominoes start falling. So, either your weekly preview or really getting back engaged with your rituals.
Nick Jaworski:
If Dave is a four, like me, then obviously this inability to complete a planner for a month is going to turn into some shame spiral of self-worth pitfall disaster. And the thing about the Full Focus Planner, for me specifically, was that it actually kept me from falling into that trap because it's a tool. It isn't me. And there's different ways to enter into the planner. You can just do your daily big three. You kind of build yourself up.
Nick Jaworski:
I had to do that this quarter. I had to go, "I'm starting over." And I found that, with just a little bit of grace, it allowed me to not feel like garbage. So, I'm hoping that Dave is not in that place, but just recognize that it's just one tool that you use to live your life.
Verbs Boyer:
That's great, Nick. And I think that's something that we've mentioned in the past is remembering that this is a tool that you use; this tool is not to use you. And that you can always have grace for yourself when you're in this process, especially for the first… not a first-time user, but maybe you're still figuring out the way that you want to use the system in a way that it's really beneficial for you. So grace, grace, grace. And attach that to a plan to try something new for that next month or that next quarter.
Courtney Baker:
Hey, listen. Talking about grace, I will admit that, this week, I did not get my weekly preview done. And let me tell you what I did. I decided I was going to do my weekly preview on Sunday evening, like normal. And I was just really tired. I was just, you know what? I think I have some time to start my day earlier tomorrow, and I'll do my weekly preview tomorrow morning, which it doesn't work. Every time I think that's a possibility, it just does not work. And so, Monday morning came. Of course, everything was crazy because it's Monday morning. And I wasn't able to do my weekly preview.
Courtney Baker:
And I'm certainly, midweek, ugh, so frustrating. I know we talk about the power of the weekly preview all the time. But instead, I'm, you know what? That happened. But you know what, this next week on Sunday night, what's not going to happen? I'm just going to say, "I didn't do it last week, but I'm certainly doing it this week" because I think you're totally right. Even for the people that have been using the planner for a really long time, grace. Sometimes things work in a way you just aren't able to do what you really wanted to do.
Verbs Boyer:
Today's tip to level up your planner usage is give yourself a deadline on a goal or a task that feels like it's just been going on forever. Now, by way of accountability, obviously we have the Full Focus community. And if you're there listening, go ahead and post what your deadline is. And that way, we can cheer each other on encourage each other as we make our way towards the progress of accomplishing those goals.
Courtney Baker:
Oh, if we're going to do this for task, I know a task that I'm going to give myself a deadline on. I'm going to tell you two. Nick, you can pull this out of the episode if needed.
Verbs Boyer:
Okay, please. Please share.
Courtney Baker:
But by the end of this week, do y'all have those doors that you close? Usually, it's closet doors. And it has a little thing at the top. It catches.
Verbs Boyer:
Yes.
Courtney Baker:
Well, some of ours are too tight. You can barely get the door back open. And then, we have one that the door won't actually stay shut. And it drives me absolutely crazy. So, I'm going to give myself a deadline. By the end of this week, I'm going to get a ladder out and get up there and fix those. So, there you go. Nothing like a deadline.
Verbs Boyer:
Courtney, you got to drop that in the community.
Nick Jaworski:
Yeah.
Courtney Baker:
Yes. I'm going to post a picture of me up there with a screwdriver-
Verbs Boyer:
With a photo. With a photo. Yeah.
Nick Jaworski:
Oh, actually…
Courtney Baker:
Yeah, yeah.
Nick Jaworski:
Okay. Courtney, if you do not post a photo of you fixing these closets…
Courtney Baker:
Oh, here we go. Okay. Yeah?
Nick Jaworski:
The community will give you crap. So, go look for that post in the Full Focus community.
Courtney Baker:
Let's go. Okay, you're going to have to remind me when this episode is. You know what? I'll just give y'all the photo.
Nick Jaworski:
Next week.
Courtney Baker:
Oh [inaudible 00:23:09].
Nick Jaworski:
It's next week.
Courtney Baker:
… next week? Oh. Okay, great.
Nick Jaworski:
That's why we had to record today.
Courtney Baker:
Okay. I'm writing in my planner.
Verbs Boyer:
Once again, thank you for joining us on Focus on This. This is…
Courtney Baker:
Sorry. This is… I'm sorry. I was writing in my planner. This is the-
Nick Jaworski:
Oh, I get it.
Courtney Baker:
Most productive podcast.
Nick Jaworski:
For sure.
Verbs Boyer:
Fair enough. Fair enough.
Courtney Baker:
This is the most productive podcast on the internet. So, share it with your friends, and don't forget to join our Full Focus Planner Community on Facebook to see my picture of me working in the closet.
Verbs Boyer:
We'll be back next Monday with another great episode. But until then, stay focused.
Courtney Baker:
Stay focused. I did my snap at a different time.